February 11, 2019
Marine Debris Cleanup - A Guest Submission by Michelle Anderson of Jekyll Island, GA
Posted by: Cohen Carpenter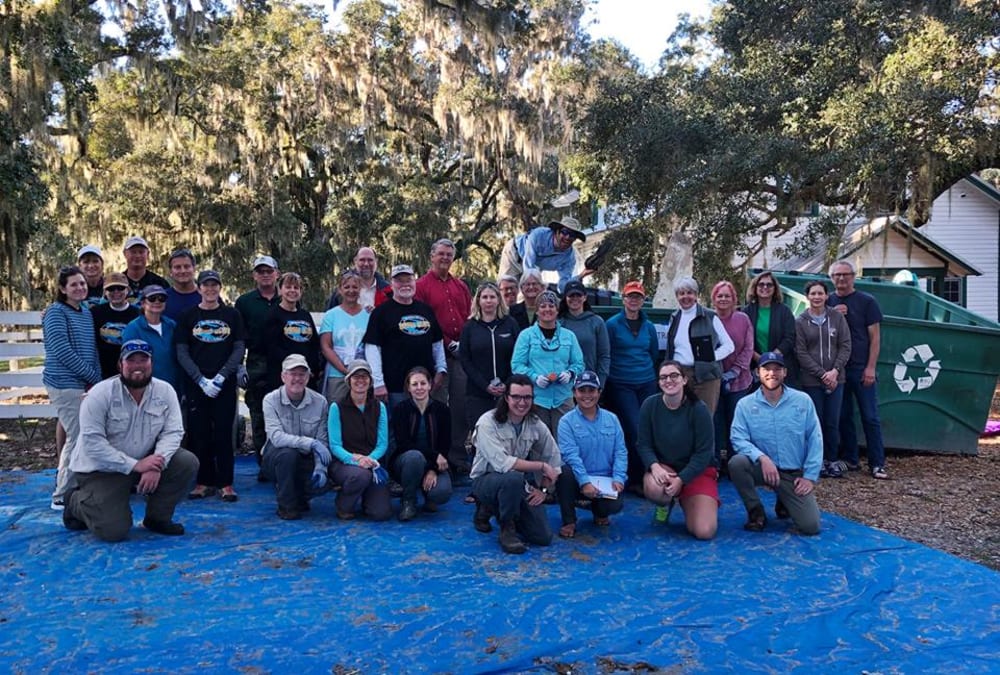 On May 31, 2018 I received an email from my friend Karen whom I met in a Master Birding class. She was telling me about local events for the remainder of the year and one of them was the Marine Debris Cleanup project on Little St. Simons Island in December. Having just recently returned from a trip there, my memories were fond and fresh, and I enthusiastically told her I was in! I had heard of cleanup projects before and knew I wanted to play a part in keeping Little St. Simons Island pristine for others to enjoy as I had. Karen booked a great room in Cedar House for our stay, December 2nd through the 5th.
December 2nd came and we took the 10:30 a.m. ferry over. After orientation and a delicious lunch we found that unfortunately our cleanup plans for the following day had to be postponed a day as large amounts of rain were moving in. The Little St. SImons Island staff was incredible though, and we were still able to participate in excursions and, of course, enjoy wonderful meals!
On the day of the cleanup we had breakfast and a briefing about how the day would proceed. We divided into groups with a specified naturalist for different areas of the island. We then received our boots, gloves, mesh bags for the debris, and set out armed with water and bug spray! Picking up the debris was from about 10:00 a.m. until noon, because we had to stop and enjoy the great lunch Chef Matt and the culinary team had prepared! It was quite enjoyable walking along such isolated, beautiful terrain looking for trash. Some debris was easy to spot while some, barely breaching the sand, had to be dug out of their resting places. The afternoon was set aside for weighing the debris, cataloging it into different categories, and logging the data. Some debris was to be expected - aluminum cans, glass bottles, various fishing debris, etc. There were quite a few unexpected items, though, like a plastic baby doll, shotgun shells, and a single shoe or two. I think we were all surprised at the total number of pounds that we as a group collected (1,233 lbs. in 2 hours!). Other memories of note: someone had a sticky encounter with marsh mud, another got to see an Eastern Diamondback rattlesnake, and I saw a marsh rat!
It was a great bonding experience, getting to meet people from all parts of the country and varying backgrounds. We were all there because we care about the environment, wildlife, and Little St. Simons Island itself. It was a surprise and pleasure to be able to participate in excursions and get to enjoy our time there relaxing as well (I assumed we would be cleaning up the whole time!). Each night we had presentations from different groups about marine debris and its effects on people, wildlife, and the environment. The statistics were staggering and disheartening but also really helped reinforce the belief that our participation could make a difference. Naturalists such as Cohen, Nate, and Stacia all have so much knowledge to pass along. The fishing and birding opportunities are fantastic, and I was thrilled to be able to catch a redfish while I was there as well. Little St. Simons Island is a magical place and the opportunities it allows are unsurpassed. I will definitely sign up to be a part of marine debris cleanup again!
-Michelle Anderson, Jekyll Island, GA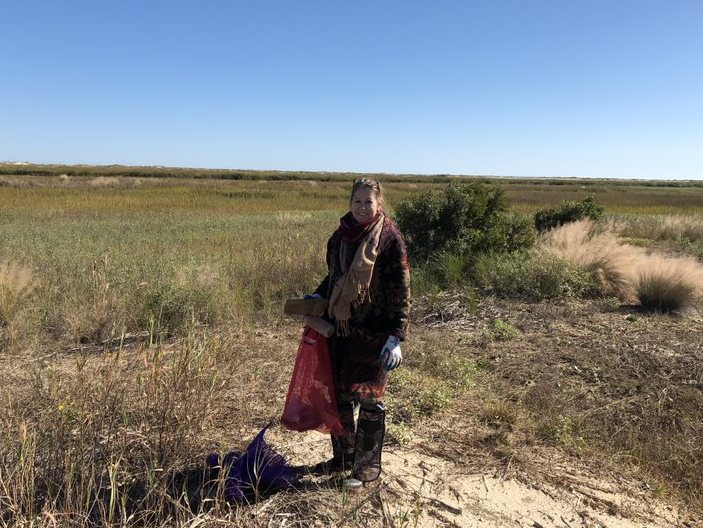 *Michelle's friend, Karen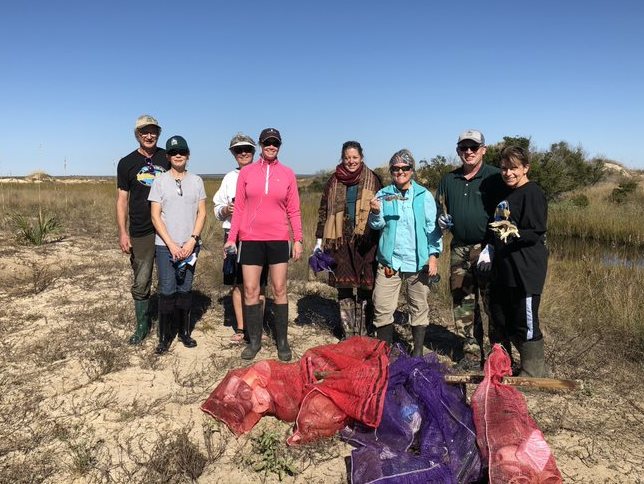 *cleanup crew at Sancho Panza beach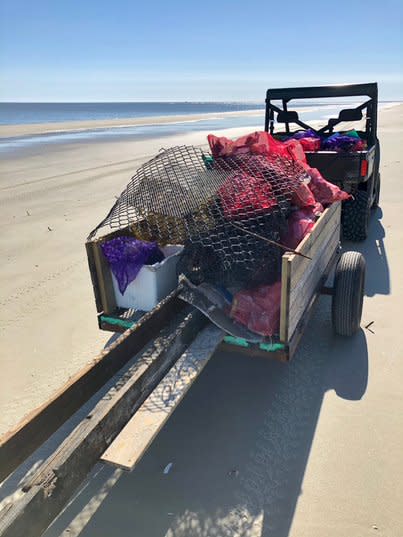 *some of the haul from Main Beach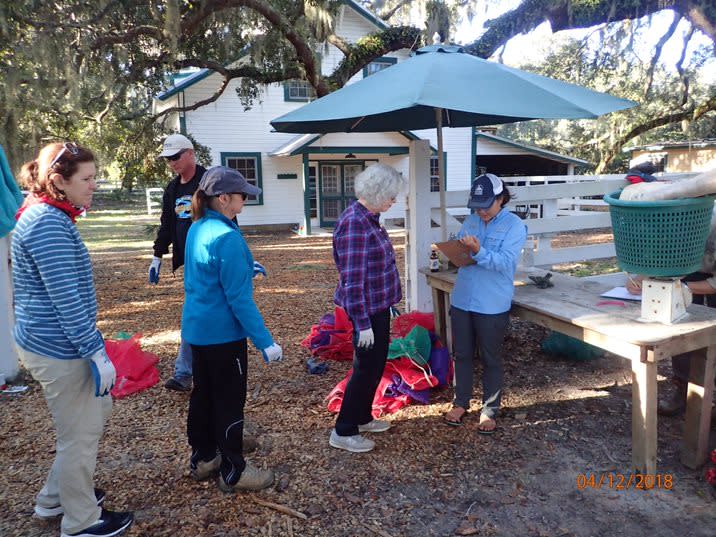 *participants submitting their tallies of various debris categories to Katy (naturalist and co-organizer of the event)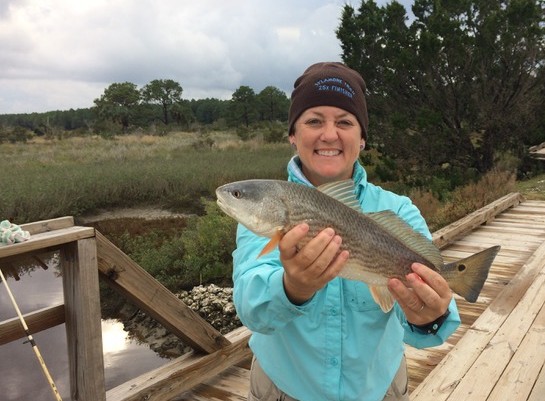 *Michelle with her red fish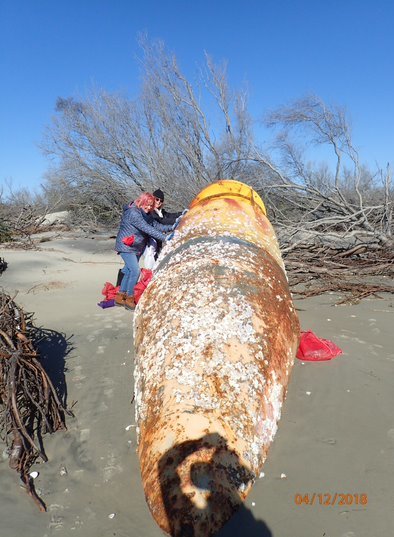 *this one didn't quite make it back for sorting... this buoy of unknown origin washed up during hurricane Irma in 2017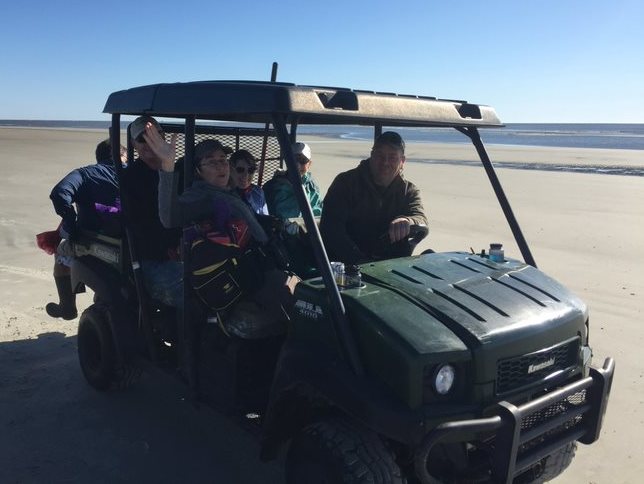 *Stacia, Bard, and guests heading to their drop-off point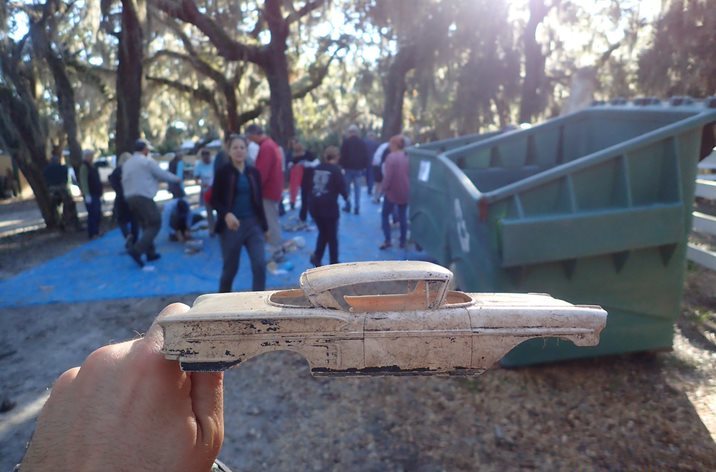 *one of the more unique items found, a model car body