August 3, 2015
Seed to Pickle
Posted by: Naturalist Team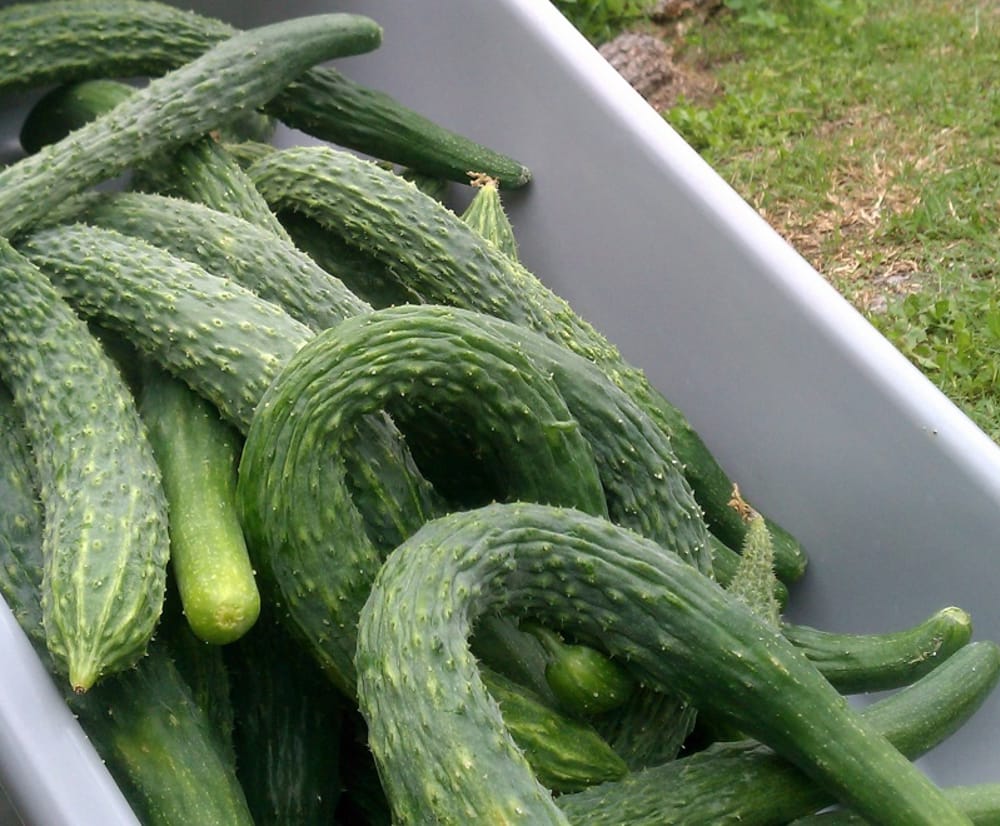 It's the height of summer and our cucumber and bean production is just wrapping up. These long, warm days are perfect for indoor food-preservation projects, and nothing gets faster results than quick pickling. The kitchen has been featuring pickled beans, cucumbers, and peppers from our garden in a variety of styles, both sweet and sour. The empty pickle bowls at the end of meals speak for themselves.
Every good pickle starts with a good brine and includes the freshest produce available. We pickled two varieties of cucumbers this year, both grown in our garden: the Suyo Long from Asia and the Arkansas Little Leaf.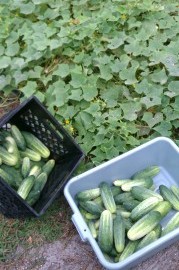 Both varieties work well in this environment. We chose them for their pest- and rot-resistance, which is key in this hot and buggy climate. Growing varieties familiar to your growing region and climate is a trick of the trade among organic growers. The Southern Exposure Seed Exchange out of Virginia is where we source most of our seeds. Many of their seed growers are farmers in the southeast.
You do your best growing the right variety, but pests often make an appearance anyway. The pickleworm reemerged this year, but we got an early handle on it with the biological pesticide BT. (Read more about our history with the worm and the pesticide.) When our kitchen is overwhelmed with cucumbers, I'd say we triumphed!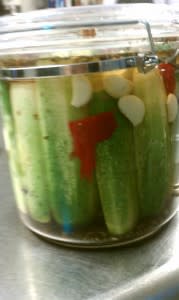 Here's our recipe for your own home-made quick dill pickle. The whole coriander seeds and sprigs of dill make for a real eye-catcher!
———-Dill Pickle Recipe———-
*1.25 C distilled white vinegar
*3 tbsp kosher salt
*2 tbsp sugar
*2 C cold water
*2 tbsp coriander seed
*6 large cloves garlic, peeled and halved
*1 tsp mustard seed
*0.25 tsp red pepper flakes
*16 sprigs dill
*1.5 to 2 lbs cucumbers, cut in spears or sliced in 0.25 inch rounds
Combine vinegar, salt, and sugar in a small, non-reactive saucepan over high heat. (Stainless steel, glass, teflon, or ceramic will work.) Whisk until the salt and sugar are dissolved. Transfer liquid into a bowl and whisk in cold water. Refrigerate brine until ready to use.
Place cucumbers in clean 2 qt. container such as a large Tupperware or stainless steel stockpot. Add coriander seed, garlic cloves, mustard seeds, red pepper flakes, and dill sprigs, then pour chilled brine over the mixture. If necessary, add water until the cucumbers are covered. Cover container and refrigerate for 24 hours, then serve; cucumbers will keep for up to a month.