All-Inclusive Stays
Little St. Simons Island is an ideal getaway for individuals, families, groups of friends, family reunions, retreats and business meetings. You may reserve a single room, an entire cottage, or the full island.
Stays are all-inclusive of:
Charming accommodations with high quality amenities and daily housekeeping service.
Boat transfers to and from the island.
Breakfast, lunch, hors d'oeuvres, and dinner prepared daily by our chefs as well as assorted snacks.
Unlimited soft drinks as well as premium beer and wine with lunch and dinner.
Naturalist-led excursions offered twice daily as well as evening programs offered most nights.
Use of the island's recreational equipment like bicycles, fishing tackle, motorized skiffs and kayaks.
Island Dining
Regional cuisine prepared by our skilled chefs is a highlight of visits to Little St. Simons Island, with three meals daily as well as soft drinks, beer and wine included in the nightly rate. Simple yet delicious meals include fruits, vegetables and herbs from our organic garden as well as local seafood and produce. Our seed-to-table program is dedicated to the research and demonstration of organic crop methods for coastal southeast soils, while providing the best possible produce for our guest meals.
Breakfast and dinner are served family-style in the Hunting Lodge dining room. Lunch is served there, too, except on most Saturdays (weather permitting) when it is presented seaside. Picnic lunches are also available.

Each evening before dinner, a delightful social hour with wine and hors d'oeuvres is held, including Friday evening oyster roasts (seasonal when local oysters are available) on the Lodge grounds. All are favored times to recount the day's adventures with family and new friends.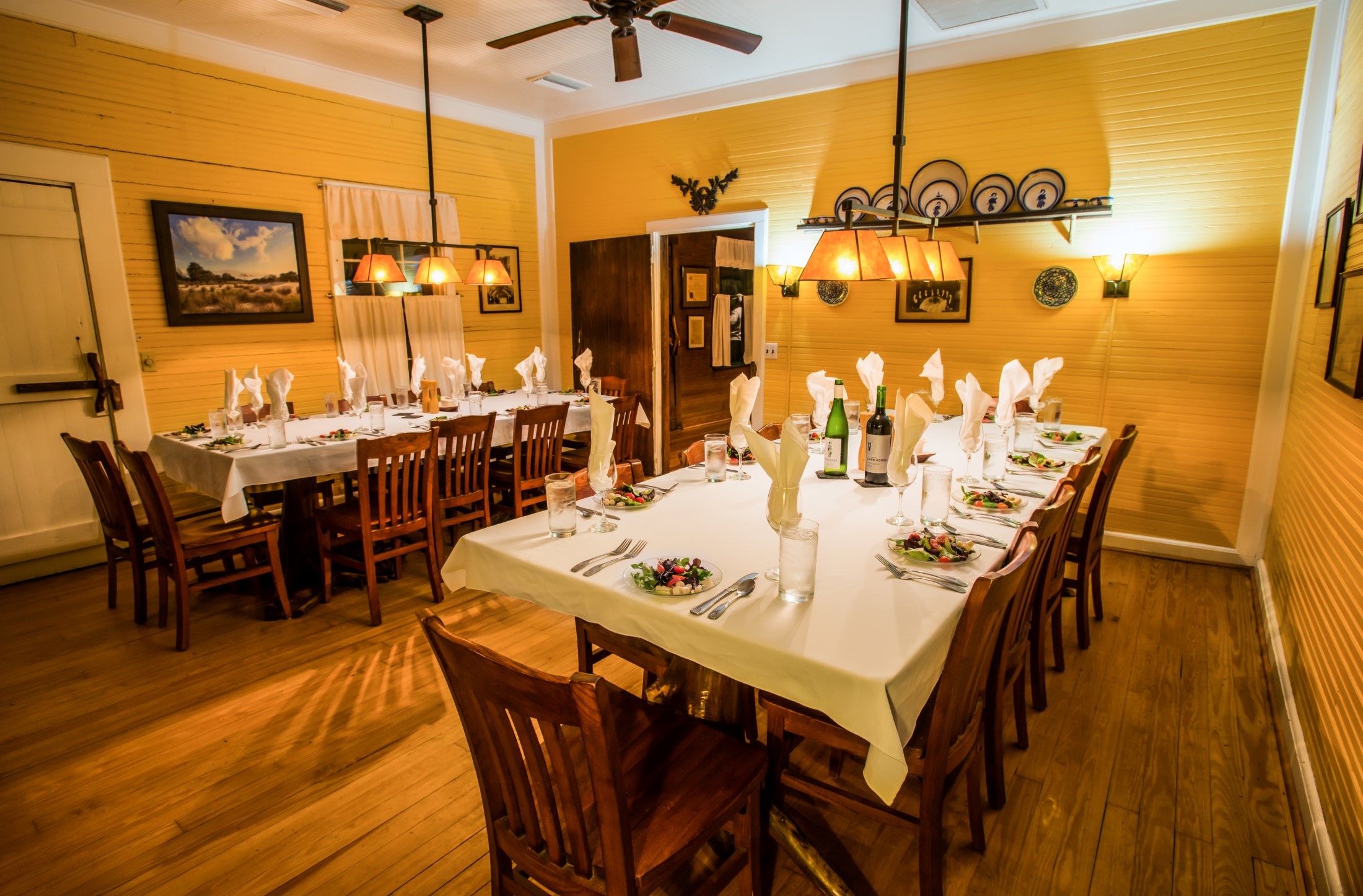 Executive Chef Ülfet Özyabasligil Ralph
Born and raised in Istanbul, Turkey, Ülfet at an early age found her love for cooking. She was introduced to the culinary world by her grandmother and mother, and the fire they gave her led to her pursuing a career in culinary arts. Istanbul is a diverse city that offers many cuisines including Mediterranean which continues to be her food inspiration.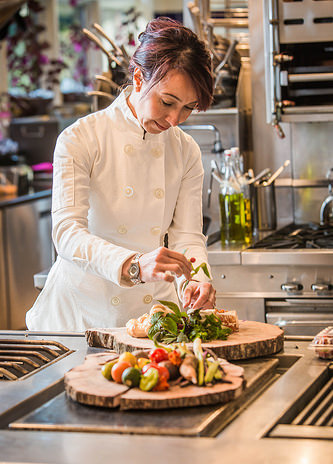 Ülfet graduated from Istanbul University with a degree in public relations. She then enrolled in the Culinary Institute of Charleston. In her first semester, she was given the assignment of working with Chef Robert Carter at the Food & Wine Festival of Charleston. This assignment quickly turned into a full time position working at Peninsula Grill in Charleston. She then went on to the Culinary Vegetable Institute at Chef's Garden, where she was the Chef de Cuisine under Executive Chef Jamie Simpson. In 2014, she was named the Best Chef at the Asheville Wine and Food festival and was the first female to win this award.
Local suppliers:
In addition to growing fresh produce, herbs and flowers in our own organic garden, we are proud to support the following local farms, fishermen and products:
B&G Honey Farm, Register, Ga - honey
Canewater Farm, Darien, Ga - certified organic and low country grown produce
Capra Gia Cheese Company Carrollton, Ga – hand crafted cheeses
City Market, Brunswick, Ga - fresh Georgia shrimp and fish
Cafe Campesino, Americus, Ga - organic Fair Trade, shade-grown coffee
Eagle Creek Brewing Company, Statesboro, Ga - craft beer
Flat Creek Dairy, Swainsboro, Ga – artisan, award-winning cheeses
Freeman's Mill, Statesboro, Ga - grits
Harriets Bluff Farm, Woodbine, GA - organic blueberries
Sapelo Sea Farms, Eulonia, GA - local clams, oysters, shrimp and fish
Savannah River Farms, Sylvania, Ga – pork sausage
Sweet Grass Dairy, Thomasville Ga - fine handcrafted cheeses
SweetWater Brewing Company, Atlanta, GA - craft beer
Island Gardening
Landscaping around the lodge consists mostly of trees and shrubs native to the Georgia coast. This is to showcase our native flora and serve to further the mission of Little St Simons to conserve and protect this ecosystem. One notable exception to our native plantings is the Helen House garden, which is maintained as a tribute to Helen Camps, and the sprawling, decorative southern horticulture she loved.
In addition to the landscaping around the lodge we have a garden and an orchard (both fenced) that provide the Culinary team with fresh vegetables, flowers, fruit and herbs. Lodge staff first began growing fresh produce in 2006, and established an intensive composting system using kitchen peelings, shredded office paper and leaves.
We grow our produce according to organic guidelines using no genetically-modified organisms and only sustainable practices. We continue to rotate a variety of cover crops to complement and build our sandy soils along with the addition of composted material. Our Executive Chef and Horticulturist plan each seasonal planting in consultation with each other so as to provide you, our guest, with a superlative, healthy dining experience.
Please visit the garden while you're here. You'll usually find our horticulturist there – or join in on one of the regularly scheduled Garden Walks.
Séamus Maclennan, Horticulturist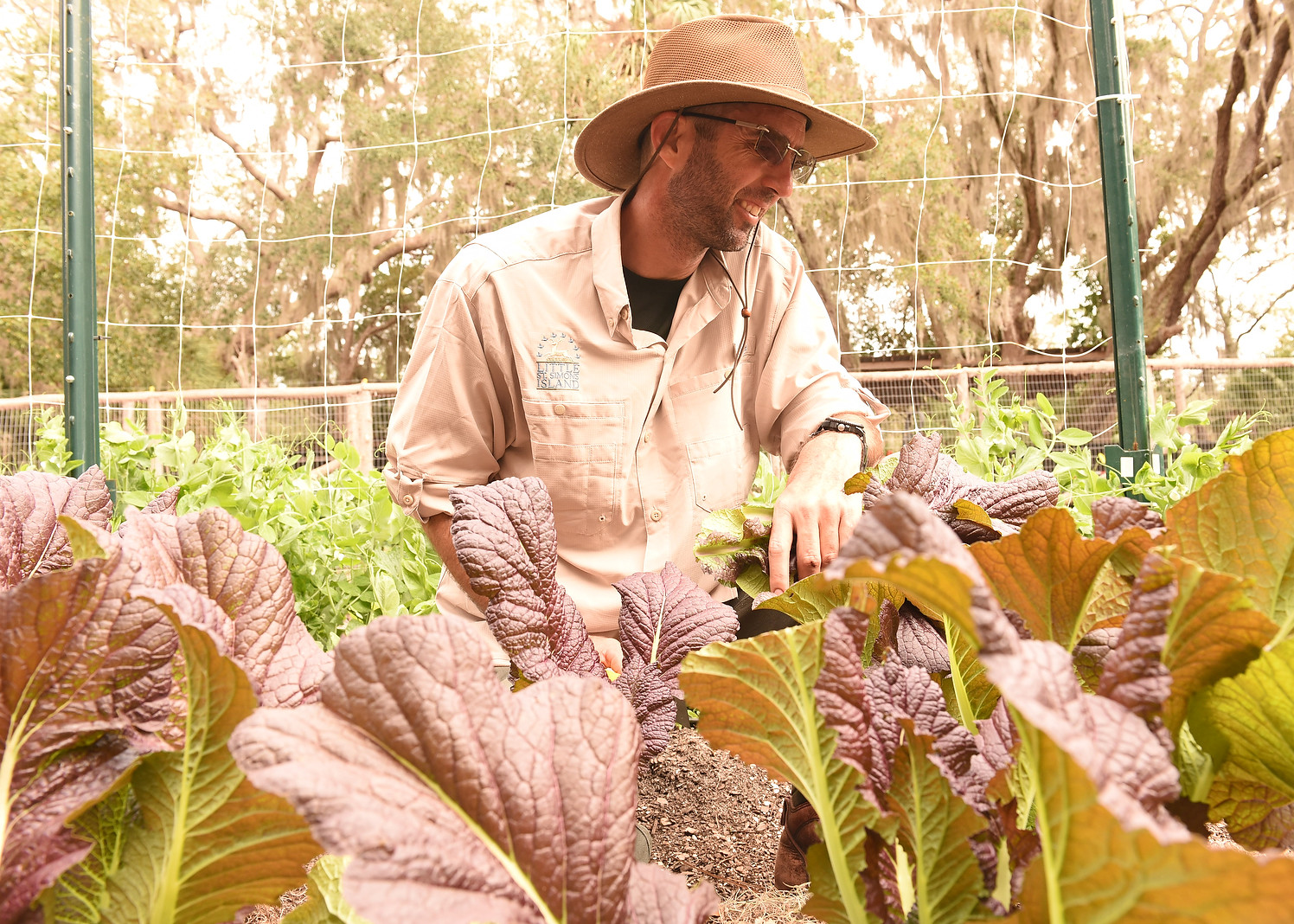 After a decade of working as a field biologist and conservationist, Seamus settled in New York City. He subsequently graduated from the New York Botanical Garden School of Professional Horticulture and has worked as a gardener on private estates in Connecticut. As part of his studies he interned at Chanticleer Gardens in rural Pennsylvania.
Seamus sees the grounds and food gardens of the lodge as an illustration of ecologically-appropriate horticulture as well as a source of inspiration and education. "
Full Island Rentals

The Ultimate Private Island Experience
Family reunions, simple non-traditional weddings, anniversary celebrations, executive retreats, business meetings or a vacation with close friends. Groups who reserve the entire Island (and so many do, year after year), are quick to enthusiastically confirm that such visits are the ultimate way to experience Little St. Simons Island while reconnecting with friends, family and colleagues.
During full-Island visits, for gatherings of up to 32 guests, the Island staff is fully focused on the group's enjoyment and experiences. Detailed planning prior to arrival sees to special group requests regarding accommodations, menus and activities.
We encourage you to contact us well in advance to ensure that your desired full-Island visit dates are available.
Day Trips
A Day of Discoveries. A Lifetime Of Memories.
Little St. Simons Island welcomes you to an exciting day amid its 11,000 pristine acres of wildlife, deserted beaches, maritime forests and vast saltmarshes. An interpretive Day Trip offers visitors an introduction to the island, its wildlife and its history.
Your Day Trip begins with a 15-minute boat ride to the Island, departing from the Hampton River Marina on the north end of the larger St. Simons Island. Once on Little St. Simons Island, you'll be greeted by an experienced naturalist, your guide for the day. After boarding a truck equipped with benches, you'll set off to explore the Island's centuries-old maritime forests and diverse wetland ecosystems, stopping occasionally to view wildlife and learn about the Island's history. Over 330 species of birds have been spotted on the Island. Depending upon the season, visitors may also have the opportunity to see American alligators, armadillos, deer and dolphin.
After returning to the Lodge compound for a hearty, family-style lunch, your naturalist will lead you on an afternoon trip to the beach — an incredible seven-mile strand of undeveloped sand dunes and sea oats along the Atlantic Ocean. You'll depart Little St. Simons Island at 4:00 P.M. by private boat.
Your Day Trip includes boat transportation to/from the Island, naturalist-led tour, lunch, and afternoon on the beach. Day Trips are recommended for adults and children over the age of 8 years. Advance reservations are required.
Little St. Simons Island Day Trips Include:
Round-trip private vessel transportation
A guided Island tour and interpretive program led by an experienced naturalist
A hearty lunch of Low Country specialties
An afternoon on our seven miles of private beach
What to bring on a Day Trip:
While we provide sunblock, it'd be a good idea to bring a hat to protect your face from the sun. You'll be outside for the day, so consult a forecast and dress appropriately. If it's warm enough to wear shorts, it's warm enough for mosquitoes to be present, so we suggest wearing comfortable long sleeves and pants. Feel free to bring beach clothes to change into later, or wear your bathing suit under your clothing for your afternoon on the beach. Wear shoes you don't mind getting sandy, muddy or wet. You may also want to bring a camera or binoculars
Day Trips Currently Scheduled:
Tuesday, February 27th
Thursday, March 1
Monday, March 5
Monday, March 12
Tuesday, April 10
Wednesday, April 11
Tuesday, April 17
Wednesday, April 25
Monday, May 14
Tuesday, May 15
Wednesday, May 16
Daytrips are $95 per person. Call 888-733-5774 or email lodge@littlessi.com for availability and reservations.
Weather, Dress & Insects
Weather
Our temperate climate makes Little St. Simons Island an inviting destination year-round. We encourage you to travel light and dress comfortably.
Spring and Fall temperatures range from 50° to 85°; Summer (our warmest months) ranges from 75° to 95°; and Winter (our cooler months) ranges from 40° to 70°. The chart below is provided as a general guide to our seasonal temperatures. In the event of rain, ponchos and umbrellas are available.

Dress
Dress on Little St. Simons Island is always casual, comfortable and functional. Even our evening cocktail receptions and dinner are "dress as you like" affairs.

Insects
In this pristine coastal environment, insects are an integral part of life. During the warmer, wetter months, guests feel comfortable in light, long-sleeved shirts and long pants. Insect repellents, in a variety of types, are available on a complimentary basis at all guest houses and at the Hunting Lodge.
Little St. Simons Island (LSSI) is located in the Altamaha River Delta. This delta is one of the most intact and biologically rich delta systems on the East coast of the United States, and has been widely recognized across the country. It includes several thousand acres of high salt marsh, which is a productive habitat for mosquito larvae. When the Georgia coast has large amounts of rain or extreme tides, areas of high marsh can fill with water and the mosquito eggs hatch. Adult mosquitoes lay their eggs in mud and when the mud is covered with water again for an extended period of time, those eggs hatch, and then over the course of about a week the larvae pupate into adult mosquitoes. These intense hatches have been part of the natural ecology of this region for at least hundreds of years and there is historic documentation from the 1700s describing the masses of mosquito around the Altamaha delta.
Historically, LSSI allowed Glynn County Mosquito Control to spray chemicals aerially to kill adult mosquitoes ("adulticide"). We know now that not only does the adulticide kill mosquitoes, but it also has negative effects on a number of other species including butterflies, dragonflies, crabs, fish, and even nesting songbirds. As we began increasing our conservation management efforts, we no longer allowed the county to spray adulticide. In 2008, we began working with Glynn County to apply larvacide, which only affects mosquito larvae and no other species.
The larvacide chemicals that we use are growth inhibitors, meaning that they do not kill the mosquito larvae, but they prevent them from developing into adult mosquitoes. Even after our marshes are treated by larvacide from the county, you could potentially see large numbers of mosquito larvae in the marshes. In addition to LSSI, other islands and marsh areas in the Altamaha River Delta are breeding mosquitoes, likely including Egg Island and Wolf Island. These islands are part of the National Wildlife Refuge system and are designated wilderness areas, so no chemicals are allowed to be applied. Despite the frequent mosquito hatches in the warmer months, most guests feel the beautiful nature of the island outweighs the biting insects. No matter how annoying the bugs are, the overall health of the ecosystem is more important.
There are numerous species of mosquitoes, but the most common one on the barrier islands is the salt marsh mosquito. It is capable of traveling 25+ miles, depending on the winds, and lives for about two weeks. Fortunately, this species is not the type of mosquito that commonly carries diseases like West Nile or Encephalitis. They are also not known to carry the Zika virus. At this point, the only mosquitoes that have been confirmed to infect people with the Zika virus are Aedes aegypti. Aedes aegypti has not been recorded in Glynn County for several years according to the company that handles mosquito control for the county.
FAQs
1. How big is the island?
Little St. Simons Island is comprised of over 11,000 acres and has seven miles of beach. Of the 11,000 acres, about 3,000 are upland while the remaining 8,000 or so is salt marsh. Aside from the 20 acre Lodge compound that includes the guest cottages and staff housing, the remainder of the island is undeveloped and consequently considered to be among the highest priority coastal conservation areas in all of Georgia.
2. How many people are on the island?
The only people who live on the Island are about a dozen of our staff, and occasionally some visiting researchers. Our sixteen guest rooms accommodate up to 32 overnight guests.
3. How do I get there?
Little St. Simons Island is accessible only by boat. Our ferry departs from the north end of St. Simons Island at the Hampton River Marina. In order to board the ferry, you must have reservations to be a guest of the Lodge. See Getting to the Island for directions to the marina.
4. Can I just come for the day?
Yes, but reservations are required. Day trips are $95 per person, plus tax and include boat transportation to and from the island, a naturalist-led tour in the morning, lunch and an afternoon on the beach. Day Trips are typically only offered a handful of dates each month based on our occupancy. Available dates are normally designated four to six weeks in advance and are posted on the Day Trips page of our website.
5. I want to just come over and look around. Can I do that?
We'd love to have you visit on a scheduled day trip or spend a few nights with us but you must have a reservation to come on the island.
6. What is included in an overnight stay?
Our nightly rates are all-inclusive and, unless otherwise noted, are priced per couple. All rates include:
Charming, well-appointed accommodations with high quality amenities and daily housekeeping service.
Daily breakfast, lunch, hors d'oeuvres, dinner and assorted snacks. Unlimited soft drinks as well as premium beer and wine with lunch and dinner.
Naturalist-led excursions offered twice daily as well as use of the island's recreational equipment like bicycles, fishing tackle, motorized skiffs and kayaks.
7. What is the dining like?
Meals are casual and served family-style. Breakfast is at 9:00am, lunch at 1:00pm, and dinner at 7:00pm. For early risers, continental breakfast is available starting at 7:30am. We serve hors d'oeuvres during social hour at 6:00pm. Don't miss the meals! Not only is the food delicious, but mealtime is also when you learn about the naturalist-led activities.
8. Do you offer in-room dining?
With the exception of the occasional picnic lunch, all meals are served in the Hunting Lodge. However, if you request a sack lunch the night before, you may pick it up after breakfast the next day, put it in your bicycle basket and enjoy it at the location of your choice.
9. What naturalist-led activities are offered each day? How do I sign up for them?
Typical naturalist-led activities include: fishing, kayaking, hiking, birding, crabbing, seine netting, beachcombing and truck-based excursions. The activities offered are based on factors such as tides, wind, temperature, season, what the wildlife is doing, as well as our guests' interests. During breakfast and lunch each day, a naturalist will come into the dining room and to talk about the activities for the day. You can indicate your interest in and ask questions about the particular activities at this time. If you are particularly interested in an activity, please let a naturalist know.
10. What should I pack for an overnight stay?
Everything is casual, even dinner, so you can leave your formal wear at home. There's a lot to see and do here, and most of it is outside, so consult a weather forecast and pack accordingly. When it's warm, in addition to your bathing suit and beach clothes, be sure to pack some lightweight, long sleeved clothing with long pants to keep you covered in case flying insects are abundant. Bring footwear for hiking as well as shoes or sandals you don't mind getting sandy, muddy or wet.
11. How much luggage can I bring?
Please limit luggage to no more than three bags per person, or four per couple.
12. Is the Lodge "family friendly?" The island is a great fun for kids and the Lodge welcomes children of all ages May through September. We do recommend that children be at least 3 years of age being the family style dining and outdoor excursions aren't very conducive to those under 3. From October through April, we welcome children over the age of six.
13. Can I bring my dog?
No pets are allowed on Little St. Simons Island.
14. How do I get around the Island?
As an overnight guest, you have access to our fleet of cruiser-style bicycles, kayaks, motorized skiffs and hiking trails. Our naturalists have trucks with benches built in the bed, and a set of portable steps to help you get in and out. Only LSSI staff may operate the trucks.
15. How far is it to the beach?
All of our cottages are located within a 20-acre compound located on the west side of the Island. It's just over two miles from the Lodge to the ocean beach. This is about a twenty-minute bike ride or a ten-minute shuttle ride by one of our naturalists in a truck.
16. What is the fishing like?
There's great fishing on the island, and if you catch something good to eat, our chef can cook it for you! When our naturalists offer fishing as an activity, you'll be standing on the bank of a tidal creek or the beach. If you'd like to go fishing on your own, you're welcome to take a bicycle equipped with a rod holder or one of our motorized skiffs. We have spinning reels and rods for fishing in the creek, and larger ones for fishing in the surf. We can also provide gear for fly fishing. If you'd like to be taken on a guided, boat-based fishing trip this can be arranged with a local guide for an additional fee.
17. Do I need a license to fish?
If you are under 16 years old, you may fish without a license. Otherwise, you will need a fishing license from the state of Georgia. You may purchase a three-day or annual fishing license on the island. A driver's license number and social security number are required to purchase a license.
18. Where can I swim?
With seven miles of private ocean beach you can certainly swim in the ocean. However, if you prefer swimming in a pool, the Lodge has junior Olympic sized swimming pool. It is treated with salt instead of chlorine and is heated only by the sun, so it's up to you to decide whether or not it's warm enough.
19. What's the weather like?
You can learn more about what temperatures to expect on our Weather Dress & Insects page.
20. What do you do when it rains?
Typically, rain showers don't last all day. Even if they do, our naturalists will still conduct tours, so long as the weather conditions are not hazardous. When the weather pushes us indoors, our staff may offer presentations regarding the island's wildlife and ecology or a craft activity. We also have several board and table games. It's also nice to sit by the fire and read, or enjoy the company of those around you. LSSI is a great place to stay busy, or do absolutely nothing!
21. What about the mosquitoes?
In this pristine coastal environment, insects are an integral part of life. During the warmer, wetter months, guests feel most comfortable in light, long-sleeved shirts and long pants. Insect repellents, in a variety of types, are available at all guest houses, the Hunting Lodge and in our Naturalist trucks. To learn more about mosquitoes on Little St. Simons Island visit the Weather, Dress & Insects page on our website.
22. What is the service charge?
All accommodations are subject to an 18% service charge on the total reservation amount. The service charge includes the following costs and services: parking at the marina, boat transfers to and from the island, wireless internet access (Wi-Fi), sunscreen, bug spray, and staff gratuities.
23. What about tipping?
Staff gratuities are included in the service charge so tipping is definitely not expected. However, if you'd like leave additional gratuity, we will be happy split it amongst the staff.
24. What are the taxes?
Georgia sales tax is 7%. The local lodging tax is an additional 1.67% of our total rate. The State's Hotel/Motel Fee is $5 per room per night.
25. Can I camp on the Island?
Camping is not allowed on LSSI.
26. How do you get electricity on the island?
Up until 1980, LSSI had its own diesel-powered generator which had been in use since the 1920's. Now the Island obtains power through submerged cables from St. Simons Island.
27. Where does your water come from?
Our water comes from an artesian well, and tastes great. Whether it comes from one of our coolers, or from the sink in your room, it's all good to drink.
28. Do you have televisions and telephones on the island?
Up until the 1980's there was just a ship-to-shore phone system before they ran a submerged line from St. Simons Island. Today, we do have land line phones in our Lodge office. However, there are no televisions or phones in the guest rooms.
29. Will I have cell phone service on the Island?
Most wireless carriers provide at least some service on the island, however, some offer better coverage than others. Verizon seems to work best over most of the island.
30. Do you have Wi-Fi?
All guest buildings do have wireless internet access. However, due to our location, you may find it requires more patience than at home. Our internet connection uses a microwave dish system to send a signal across from Saint Simons Island so it is also more prone to outages than on the mainland.
31. Are your rooms air-conditioned?
Yes. All of our guest buildings are air-conditioned.
32. Can I bring my own boat?
If you have an overnight reservation, it may be possible to bring your own boat. Please inquire when you make your reservation.
333. How many staff do you have and where do they live?
LSSI employs approximately 30 full and part-time staff, about half reside on-Island; the rest of the staff live off-Island and commute to and from the Island daily.
34. How do you get groceries and supplies?
Fresh seafood arrives daily by boat or courtesy of our guests who have had a good day fishing. Groceries and other supplies are brought over by boat on a weekly basis from Hampton River Marina or Village Creek aboard the "Capt. Doug", the LSSI barge. This same barge also carries equipment and vehicles to and from the mainland.