Skip to Content
Our Best Birding Spots
From waders to warblers, over 250 species of birds have been recorded on our 11,000-acre island throughout the year. Whether you explore with a Naturalist or head out on your own, use this interactive map to plan your day hitting hotspots and seeing lifers.
Our Best Birding Spots
Types of Birding
Truck-Based Birding
Venture out in search of birds in an open air pickup truck guided by an experienced naturalist. Truck-based excursions can venture to viewing platforms around ponds or explore more remote portions of marshland. In addition to provided binoculars, on guided excursions, naturalists can bring spotting scopes to help you get the best view.
Types of Birding
Birding Hikes
During the peak of bird migration in the Fall or Spring, join a naturalist and hit the trails to spot songbirds in the tree canopy such as warblers, vireos, and tanagers.
Types of Birding
Pond Birding
Explore the Island's wetlands and learn about avian visitors with an experienced naturalist. Bird from the comfort of one of our viewing towers or blinds and get an intimate look at many of our wetland species such as herons, egrets, and waterfowl. In the Spring and Summer, make sure to tag along and see Norm's Pond wading bird rookery in action.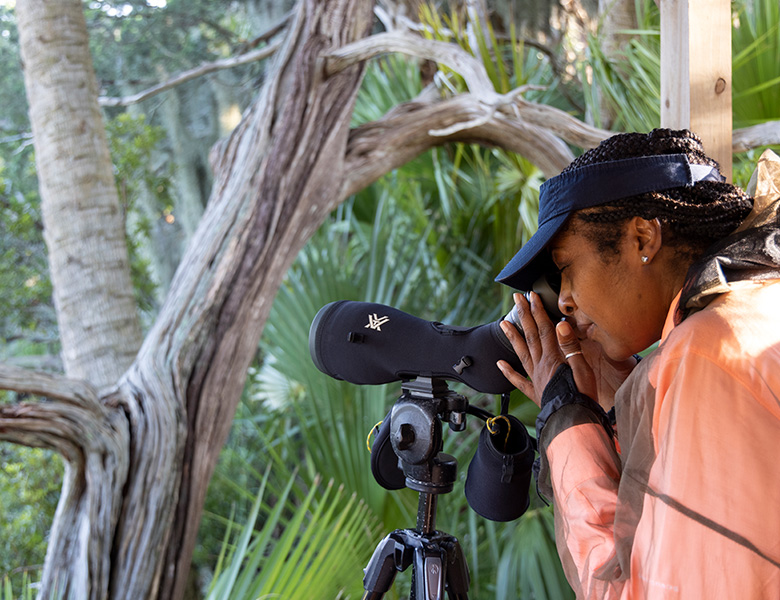 Types of Birding
Beach Birding
Little St. Simons Island's undeveloped beach provides idyllic habitat for shorebirds and seabirds. Migration seasons boast a plethora of shorebird species, winter highlights include sea ducks, hundreds of Red Knots and Piping Plovers, and summer showcases nesting species such as Wilson's Plovers, American Oystercatchers, Least Terns, and Black Skimmers. On our beaches, there's no shortage of avian life to see year-round.