June 2, 2011
A rare visitor…
Posted by: Jeanne Christie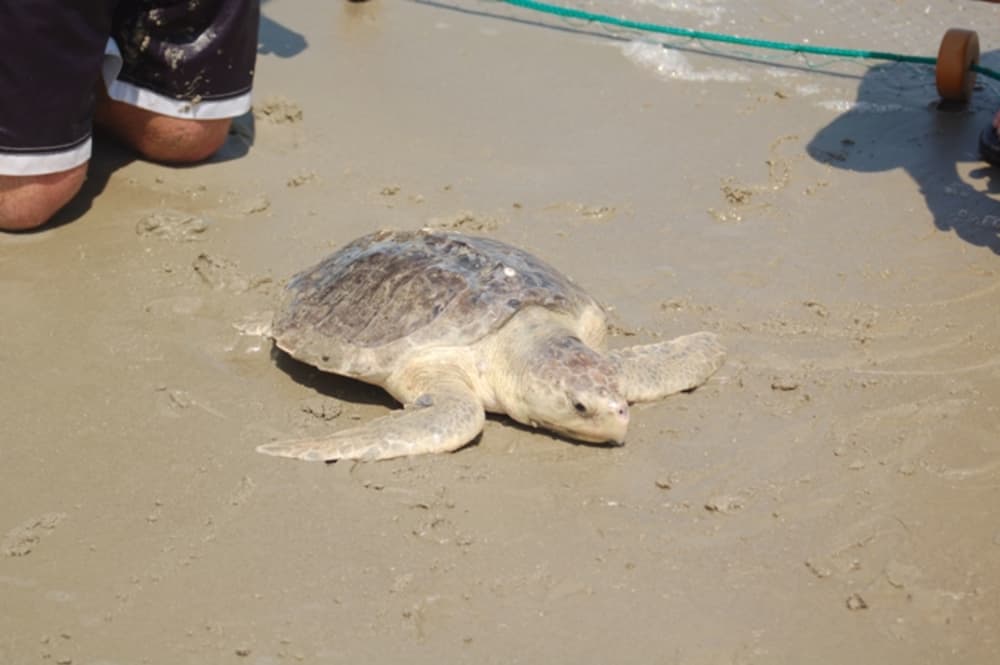 Several days ago I set out with a small group of guests for what I expected would be a routine day of seining and surf fishing. While I pulled the seine net along the shoreline, I expected to bring in an assortment of small fish, crabs, and marine invertebrates. I was hoping for something special like a bonnethead shark or a large redfish. The last thing I expected to hear when I finally dragged the net ashore were shouts of "A turtle! A turtle!"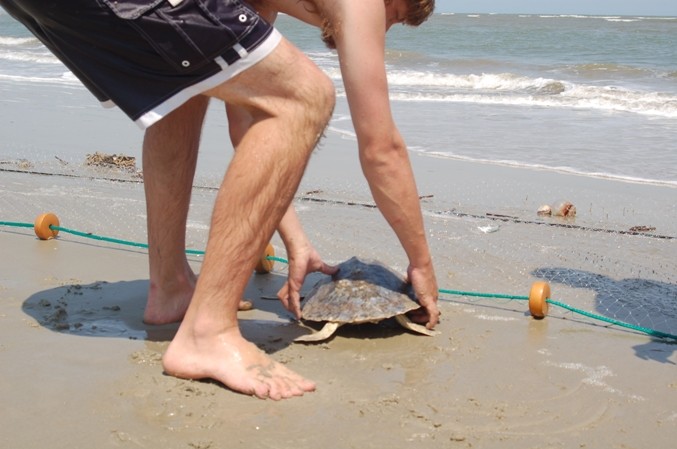 Photos courtesy of Robin Lacey
Sure enough, a small juvenile sea turtle was kicking and straining against the net. He was only slightly larger than a dinner plate, making him just a few years old (Loggerhead Sea Turtles can take up to 35 years to reach maturity). Everyone enjoyed an up close look at the very surprised turtle, and I quickly returned it to the water, where it rapidly swam back to deeper water.
Juvenile sea turtles of several species routinely visit Georgia's inshore waters during the warmer months, foraging in our nutrient rich creeks, rivers, and shoals. It therefore wasn't a complete shock to find one so close to the beach, but it was still unusual – turtles typically would be expected to shy away from such a slow moving net, and in fact, this was the first time one had been captured in years of seining on Little St Simons Island.
So imagine my surprise when, just a few days later, on another seining excursion, the net was hauled in to reveal another juvenile sea turtle! On closer inspection, it turned out to be the same individual. By now 'puzzled' and 'concerned' joined 'surprised' on the list of emotions running through my head. Catching the same turtle twice in a short period of time didn't strike me as a promising sign. A closer look at the turtle revealed several scrapes and cuts on the shell, some of which were still lightly bleeding. I also made a discovery that had escaped my notice the first time around. In my haste to return the turtle to the water, I'd completely overlooked that the little guy was no loggerhead at all, but a rare Kemp's Ridley.
The Kemp's Ridley may be the rarest sea turtle in the world. It certainly has the most restricted nesting range – until recently, just a single beach on the Gulf coast of Mexico. As recently as the mid-20th century, they nested in spectacular events called arribadas (Spanish for "arrival"), where thousands of turtles would simultaneously nest in broad daylight. However, as word of the location of the nesting sites spread, poaching of eggs and adults took a toll, leaving as few as 200 adults nesting a year – down from as many as 42,000 in a single day in 1947! Now, the population is slowly recovering, with around 8,000 nests per year.
Unlike our more familiar loggerheads, the Kemp's Ridley is not know to nest in Georgia, though a handful of nests have been recorded in the Carolinas and Atlantic coast of Florida. The vast majority of the population may never leave the Gulf of Mexico. However, juveniles will often get carried by offshore currents out of the Gulf and into the Gulf Stream, where they arrive in Georgia's nearshore waters. These young individuals will stay in our area for some time, feeding on crabs and other marine life before returning to Mexico to breed.
Given the condition of the individual in our hands and the overall rarity of the species, we decided to take no chances with its health. Fortunately, nearby Jekyll Island is home to a state-of-the-art sea turtle hospital and research institute. After a couple phone calls, the staff of the Georgia Sea Turtle Center arranged to meet us on St. Simons to take the turtle to their facility. After quick truck and boat rides, the turtle was soon in the capable hands of the Turtle Center.
At last report, the turtle was doing well and seemed to be in good health. He was eating readily and soon should be ready to be returned to the ocean. We'll keep everybody updated on his status as we hear more from Jekyll!