August 17, 2016
American Mink
Posted by: Jeanne Christie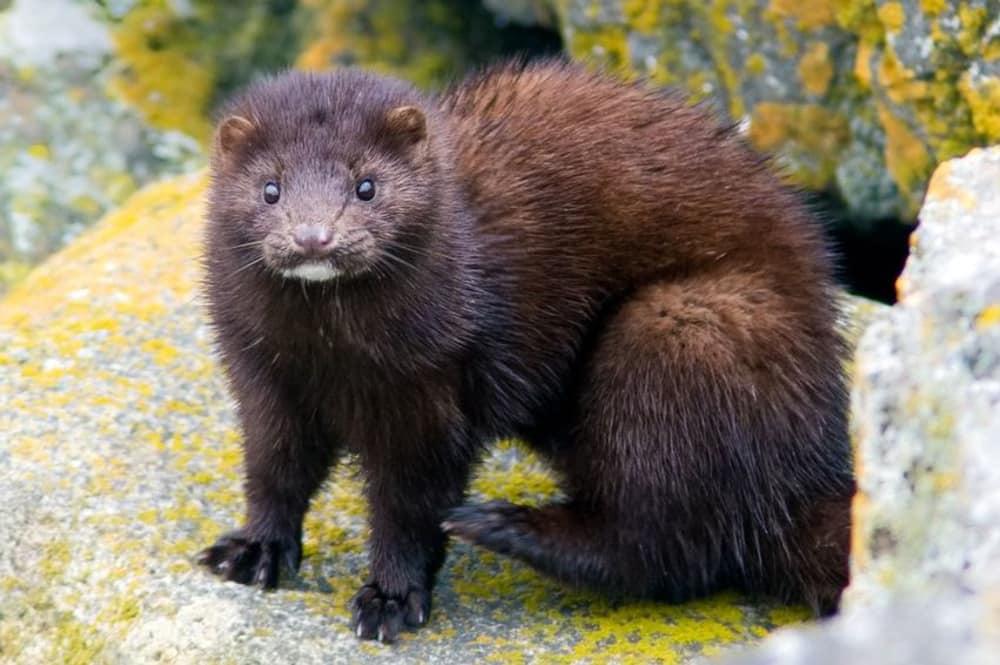 The American mink is a fascinating voracious predator in the Mustelidae family, which includes otters, weasels, badgers, wolverines, and minks. The Mustelidae family is actually the most diverse family within the order Carnivora.
American mink are an extremely widespread mammal found across North America, ranging from Alaska and Canada through the lower 48 states, with the exception of extremely dry areas of the Southwest. The American mink has also been introduced to large portions of Europe where it is classified as an invasive species, linked with the decline of several native species including the European mink. Although often difficult to view due to a secretive nature, the mink is quite common throughout much of its range. In suitable habitat, populations may reach densities of 9-22 individuals per square mile. Mink are considered semi-aquatic, and are rarely seen far from a water source such as streams, lakes, swamps, and marshes. Occasionally mink can persist in dry environments if there is a steady food supply. The majority of mink populations occur around fresh water, but coastal salt marsh also produces fine habitat for mink, with abundant prey.
Mink are strictly carnivorous, like all members of the Mustelidae family, and have a varied diet. Typically the diet depends on the type of prey available, and small mammals such as muskrats and rats may be eaten more during the winter months. Other prey choices can include ducks, seagulls, crustaceans, amphibians, and other waterfowl. Being excellent swimmers, mink can swim up to 30 meters underwater and dive up to a depth of 5 meters in search of prey. Mink are mostly active during the night. An elusive nature combined with cryptic coloration help mink avoid predation, but occasionally they will fall prey to coyotes, bobcat, birds of prey, and snakes.
Male individuals are very territorial with each other, and have home ranges that may overlap with several female home ranges. Breeding occurs during the winter months, and both females and males may mate with multiple individuals. Gestation typically last from 45 to 75 days, and average litter size ranges from 1 to 8 kits are usually born in April or May. Most kits become independent and find new territory from 6 to 10 months of age, and both male and females become sexually mature around 10 months of age.
The dense and fine pelage (fur) of mink makes it among the most important furs on the fur market. Historically all pelts came from trapping wild populations which led to declines in populations, but most pelts in the fur trade are now produced on farms. Wild populations have since recovered from the extensive wild trapping and are considered of least concern by the IUCN (International Union for Conservation of Nature).