August 23, 2019
Custom, Cast-Iron Cooking
Posted by: Matt Lerish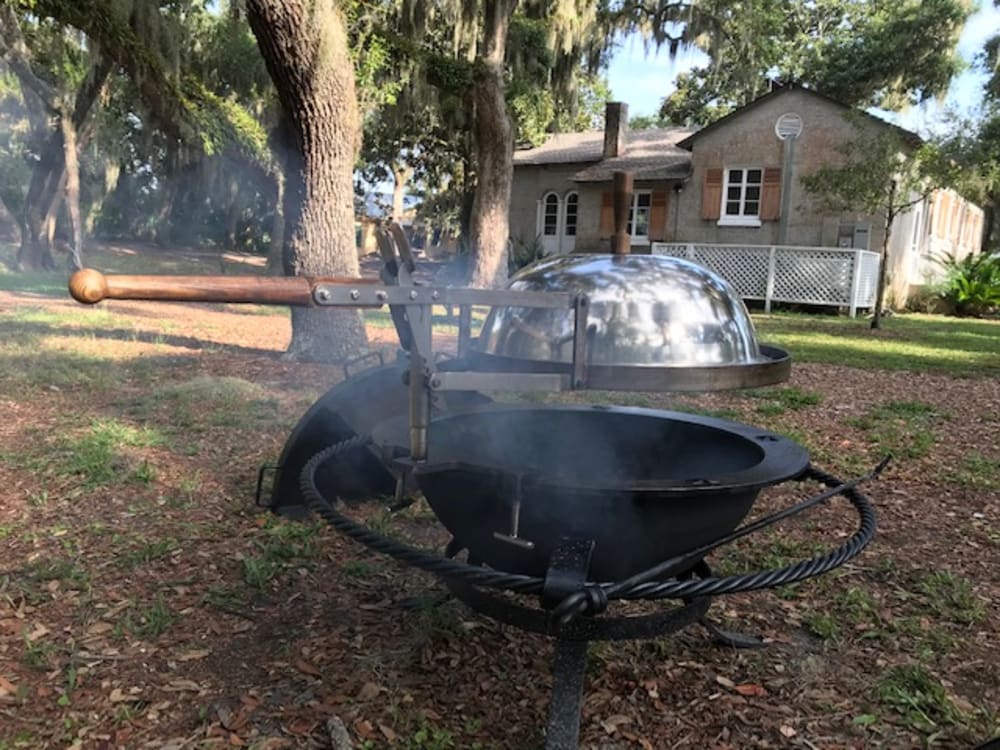 In early July, the LSSI culinary team hosted The Local Palate magazine and Sea Island
Forge for an evening of al fresco dining underneath the live oaks and summer skies of Little St.
Simons Island. This collaboration paired the heat and smoke of the Sea Island Forge fire kettle with
pristine local vegetables from our own garden and Canewater Farm, local fish, and grass fed
pastured meats from Hunter Cattle to craft a modern expression of low country summer grilling.
Based in Charleston and published 6 times a year, The Local Palate "celebrates the rich
and diverse food culture of the South, highlighting the people and places that make it the most
dynamic culinary region in the country." Debuting in 2014, Sea Island Forge fire kettles are
handcrafted in Brunswick by a team of talented metalsmiths and artisans led by founder-owners
Steve and Sandy Schoettle.
Chef Matt's menu for this event reflected the approach he's taken since joining the
team and highlighted dishes he's been serving to guests since his arrival in December. The
evening began with an oyster roast, a weekly tradition on LSSI during the cooler months of the
year. This was followed by a family style feast of grilled tri-tip steak with chimichurri made of
herbs from our garden and seared grouper with browned butter and preserved meyer lemons
from our orchard. Served alongside grilled peppers and eggplants from Canewater Farm, our
basil pesto, and "cobbled" fingering potatoes with LSSI sea salt and crispy herbs, this meal
embodied summer dining here on Little St. Simons.
Grilled Tri Tip Steak (serves 6-8 people)
1 Tri Tip Steak (2-3 lbs.)
½ Cup Extra Virgin Olive Oil
4 Cloves of Garlic Chopped
1 TBSP ea: Chopped Fresh Oregano, Parsley, Rosemary, Thyme
Kosher Salt & Freshly Ground Black Pepper to Taste
Combine garlic, herbs, and olive oil and pour over steak. Make sure all sides are evenly coated
and allow to marinate for at least 3 hours or overnight.
Remove steak from refrigerator 1 hour prior to cooking. Remove from marinade and rub
liberally with kosher salt and freshly ground pepper. Allow to stand at room temperature for an
hour before cooking.
Sear all sides evenly over high heat, moving and turning regularly to achieve even browning.
Move away from direct heat and roast slowly until an internal temperature of 125 F is reached
for medium rare to medium doneness. Rest steak away from heat for 10-15 minutes before slicing
thinly against the grain.
Garnish with garden herb and charred onion chimichurri.
Garden Herb and Charred Onion Chimichurri
½ White or Yellow Onion
1 Jalapeno Pepper
1 Cup Extra Virgin Olive Oil
2 TBSP Chopped Parsley
2 TBSP Chopped Oregano
1 TBSP Red Wine Vinegar
1 TBSP Sherry Vinegar
1 TBSP Soy Sauce or Tamari
1 tsp Tabasco Sauce
Over medium heat, grill onion and jalapeno until well browned and softened. Peel, seed, and
dice jalapeno until "jammy" in consistency.
Fine dice the onion until "jammy" in consistency.
Combine all ingredients and spoon over sliced steak. Also delicious on poultry, fish and
vegetables.