August 23, 2019
From the Garden - August 2019
Posted by: Cohen Carpenter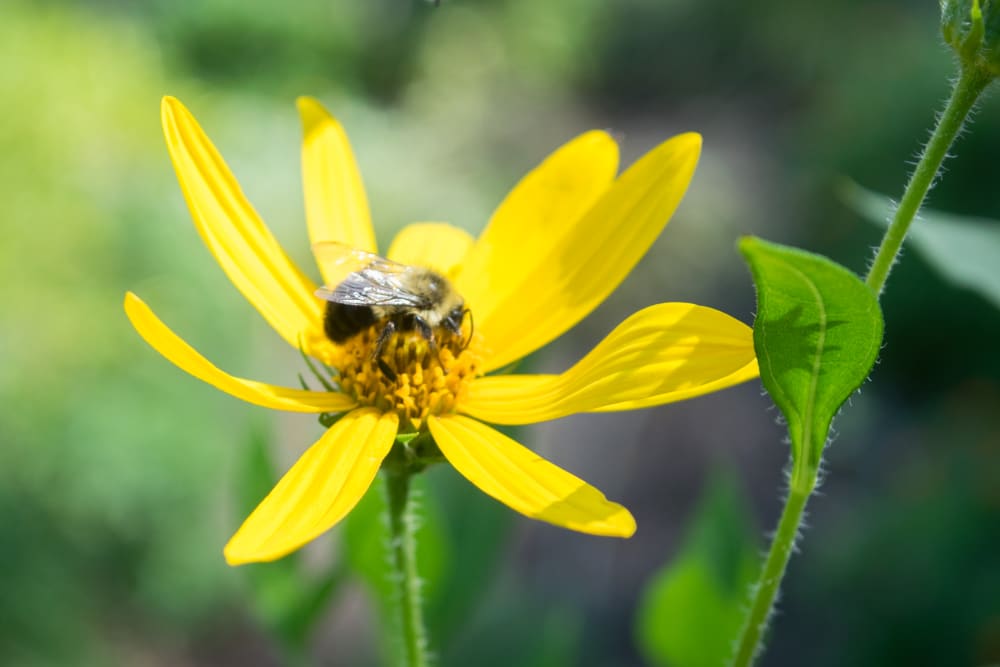 Header photo: Bee pollinating "sun choke" (Helianthus tuberosus), a sunflower relative with an edilble tuber.
In the middle of the garden, past the figs and the pomegranate trees, next to a wall of passion fruit vine, several pepper varieties grow in a raised bed. Some of the sweet peppers, like the "Santa Fe Grande," a colorful chile, are used fresh and cooked, with this variety recently being served roasted as the perfect combination of color, crunch, and sweet and charred flavorings. Others are dried for paprika and spice mixes.
Nearby another prolific season of basil growing yielded several healthy plants that have kept Jessica, culinary gardener, busy making fresh pesto, basil-infused oil, and dried herb mixes for The Lodge. Bless that pesto!
The vines of passion fruit, now behind us, recently provided its colorful fruits for sliced dessert toppings. Further down, Seminole pumpkins make their way through the Georgia heat into fruits that will have a similar flavor to butternut squash.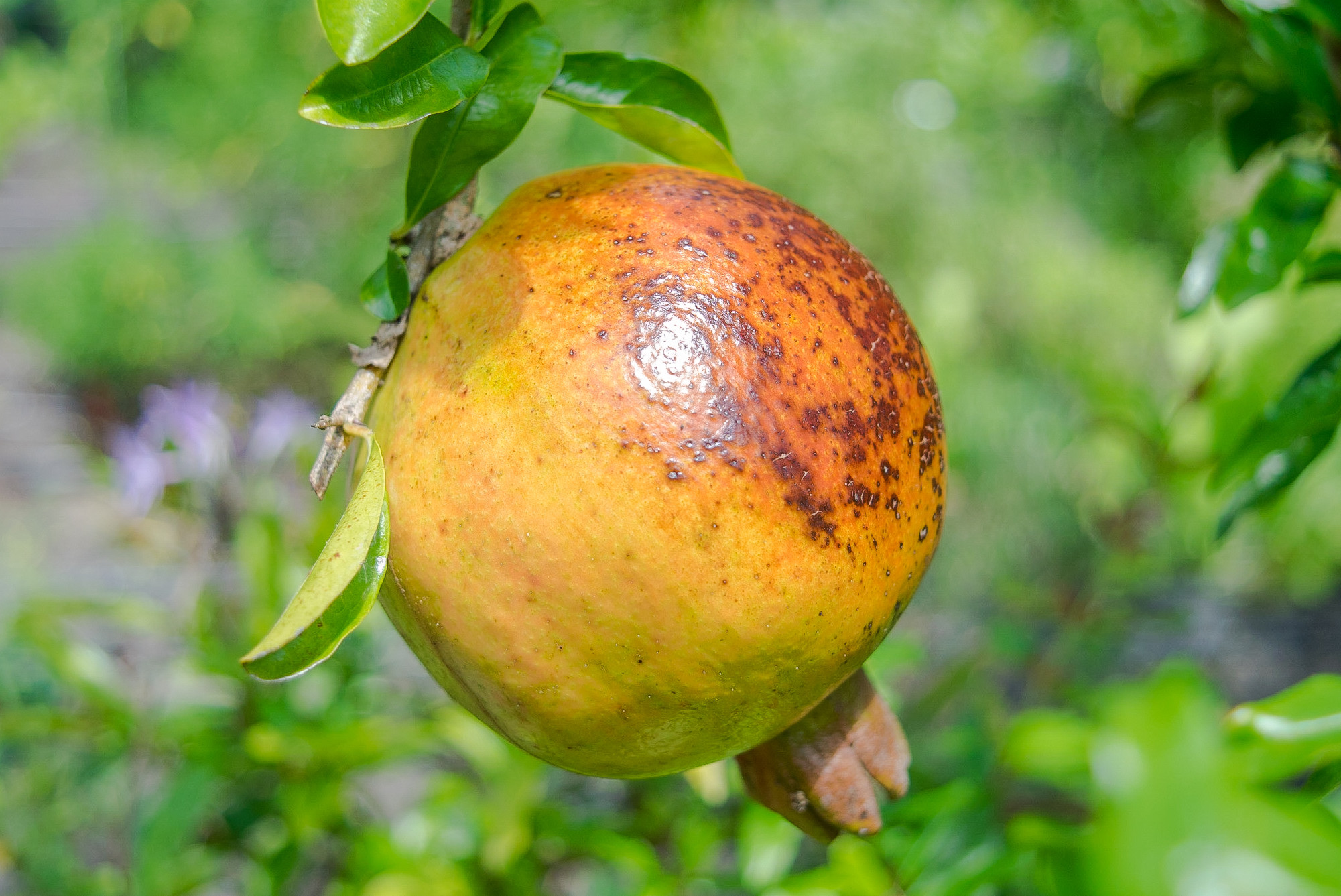 photo above: pomegranate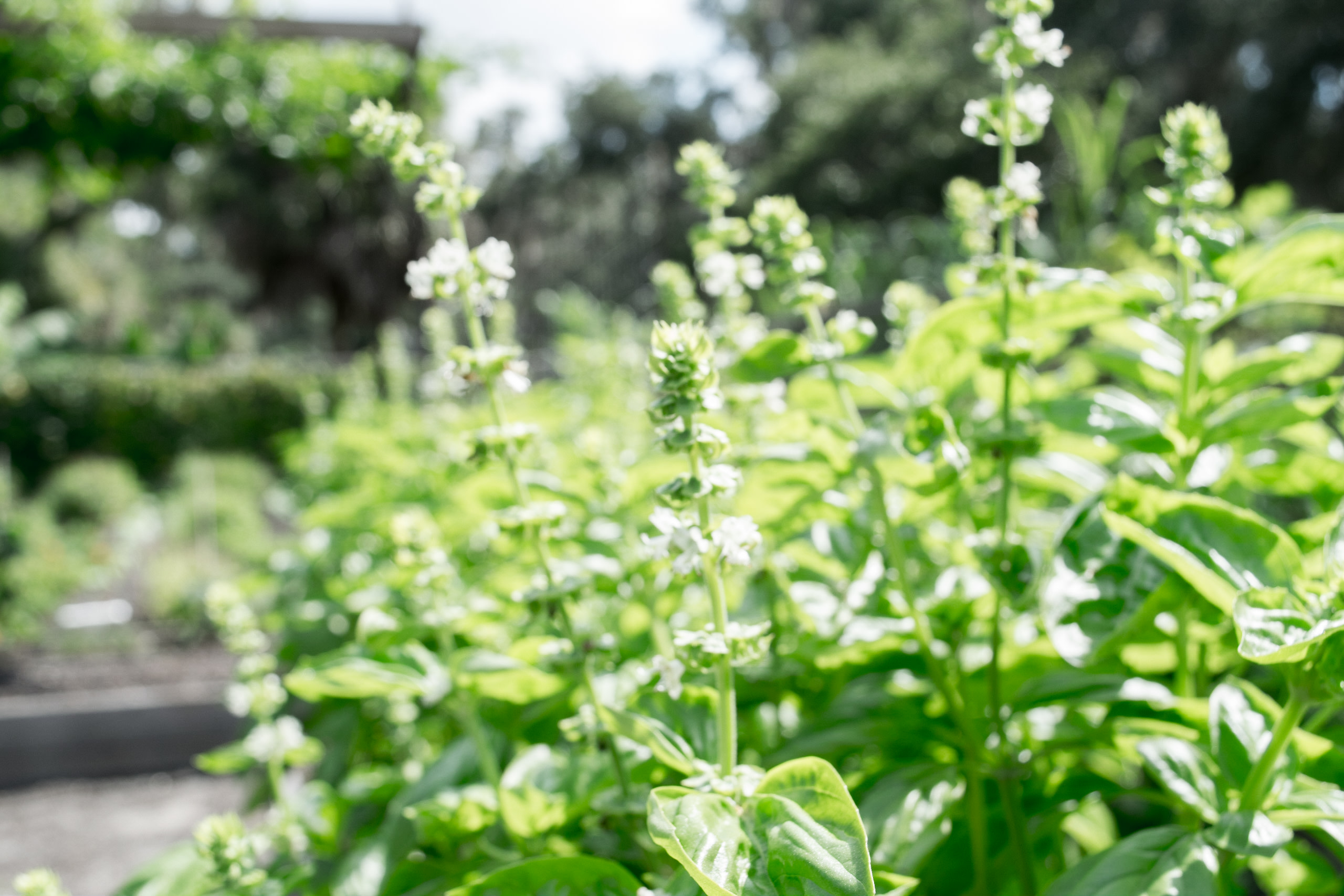 photo above: flowering basil
Moving toward the new, vine-covered gathering space, one cant miss the ~10 ft. tree looming over. It's Moringa. Sound familiar? It's possible you've seen it in capsule or powder form in a health foods or nutrition store. Moringa contains high levels or vitamins, minerals, and antioxidants, and it can be used in a variety of ways. One can cook with it as a leafy green, use it in salad mixes, or as The Lodge has been doing lately, mix it in with something like couscous. It has very little flavor, so it's not likely to alter the taste of any dish. Moringa, native to northern India, grows well in poor soil, grows fast (the individuals in the garden as I mentioned are ~10 ft. and were grown from seed this year!), and can be cut back and will easily form new shoots. Séamus says in his native South Africa, Moringa is used in development projects because of its prolific tendencies, which not only provide quick vegetation and human nutrition but also firewood and animal fodder.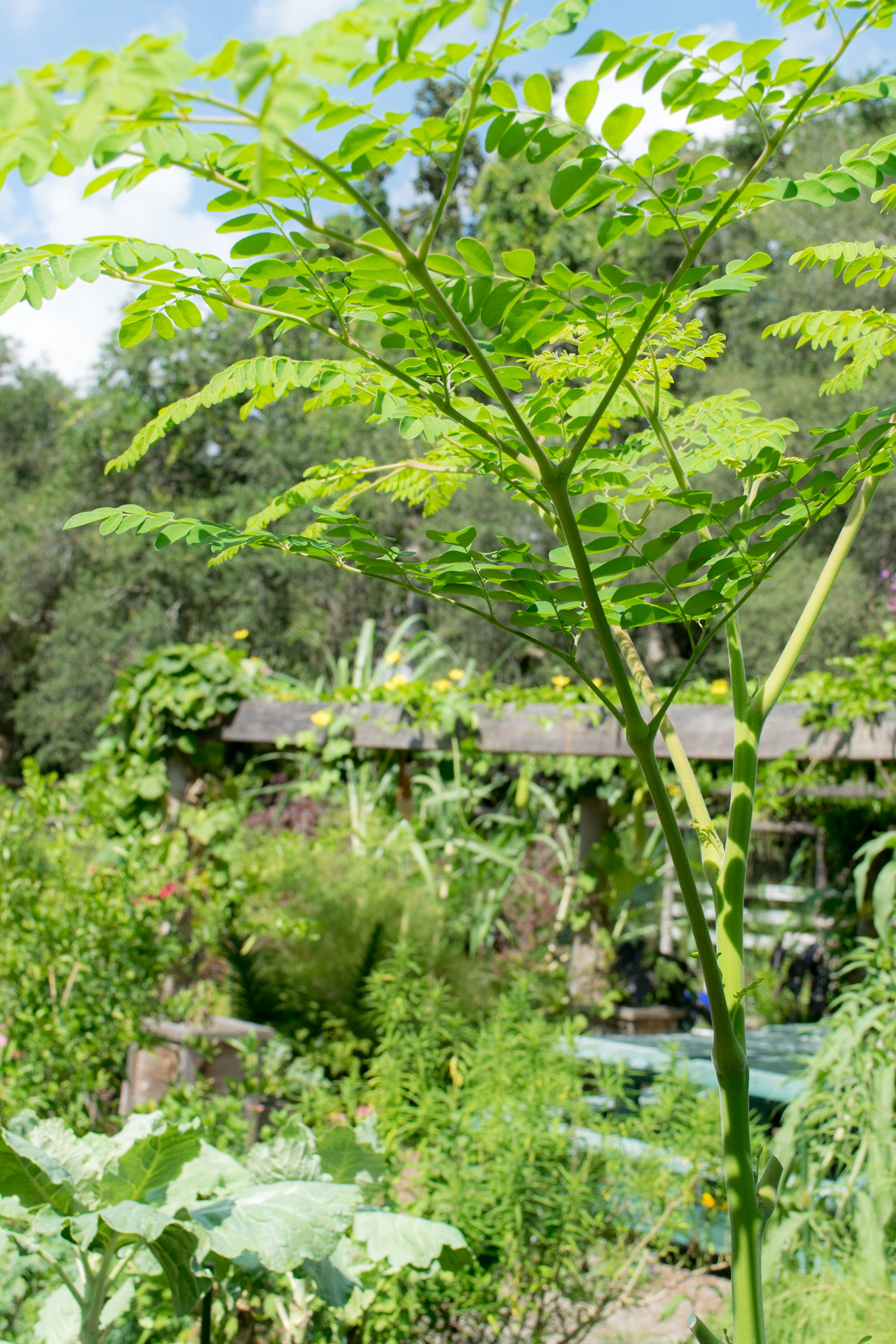 photo above: Moringa sp.

In the late afternoon, a cool beverage and the shaded gathering space can be quite inviting for garden visitors. One can't help but notice, though, the fibrous fruits hanging from the lattice. As small fruits they are edible, giving them one common name of "Chinese okra," but they are more easily recognized as Luffa, the exfoliating shower accessory. Ask Seamus or Jessica for a sample on your next visit.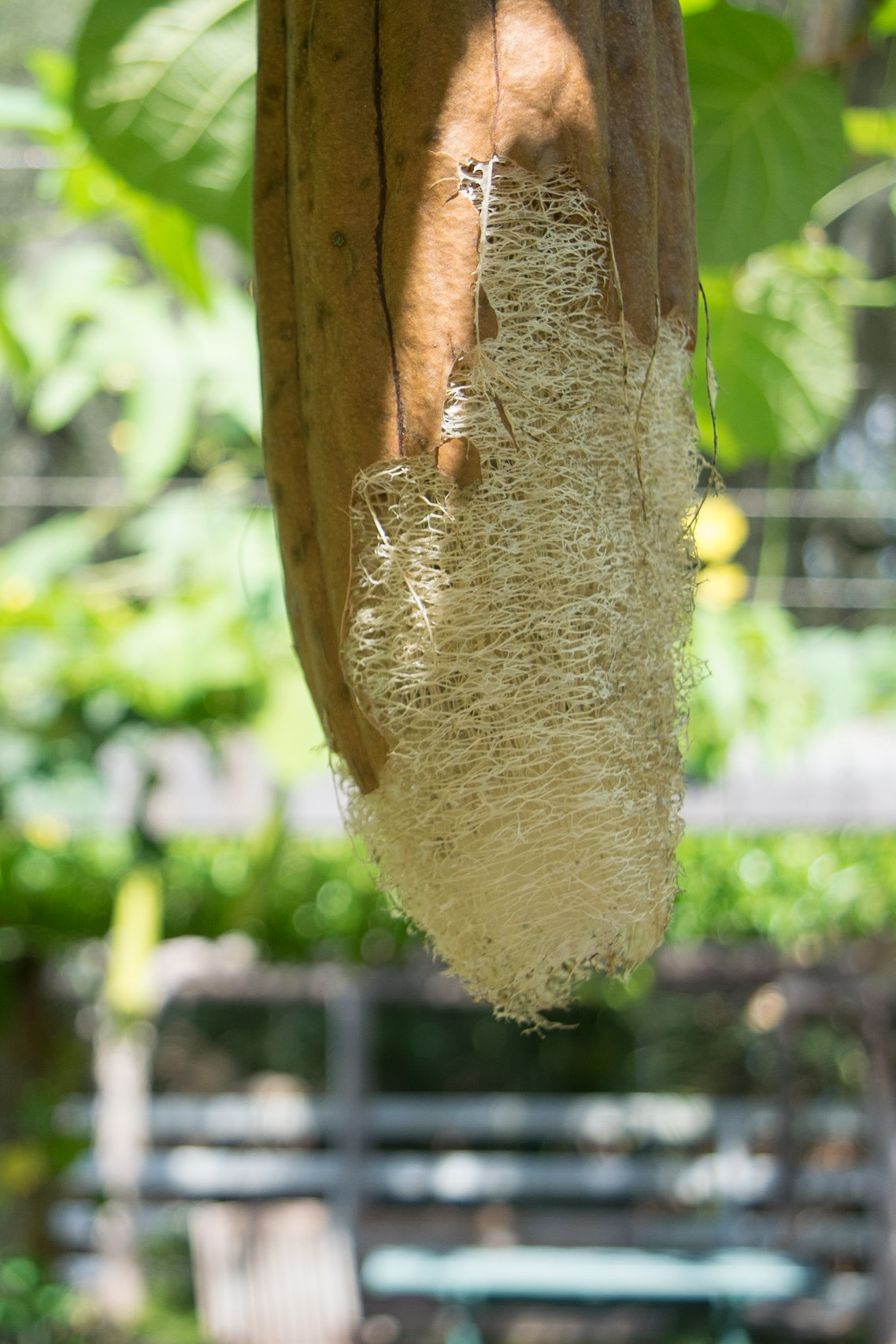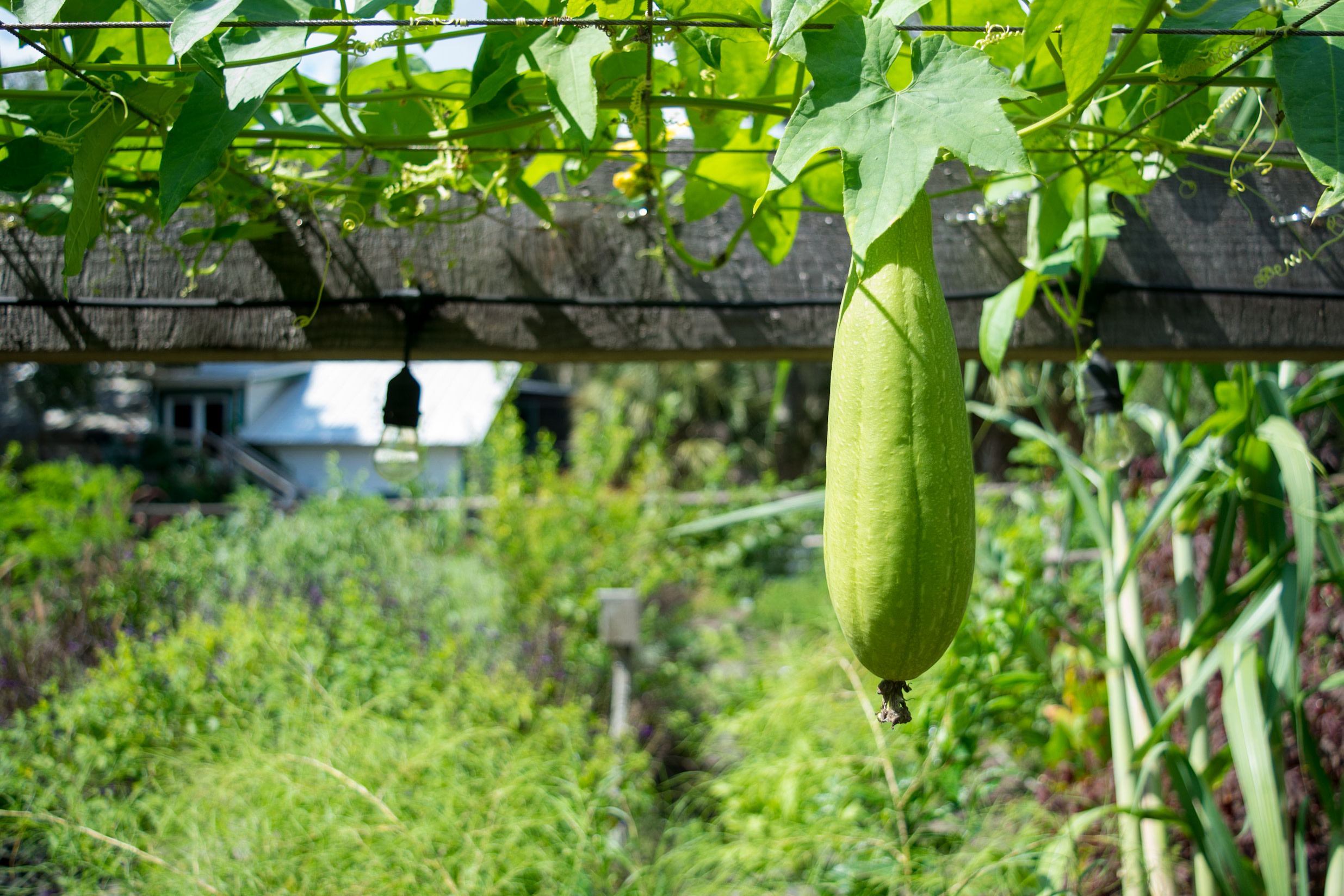 photos above: Luffa sp.; older fruit on left and younger (yet past the age of being palatable) on right

Under this canopy, as dinner approaches, is the perfect place and time to sample some of what the garden currently has to offer. For example right now, the muscadine grapes, fruiting in large clusters at the border of the garden are mouth-watering, and the light and crunchy cucumber is just refreshing. Or try Seamus' several varieties of figs, like the French Violet Fig or "Violette de Bordeaux" seen on the left as you enter the garden. Discover ideas for your own garden and hear about the latest and upcoming projects in ours before strolling back to The Lodge for dinner.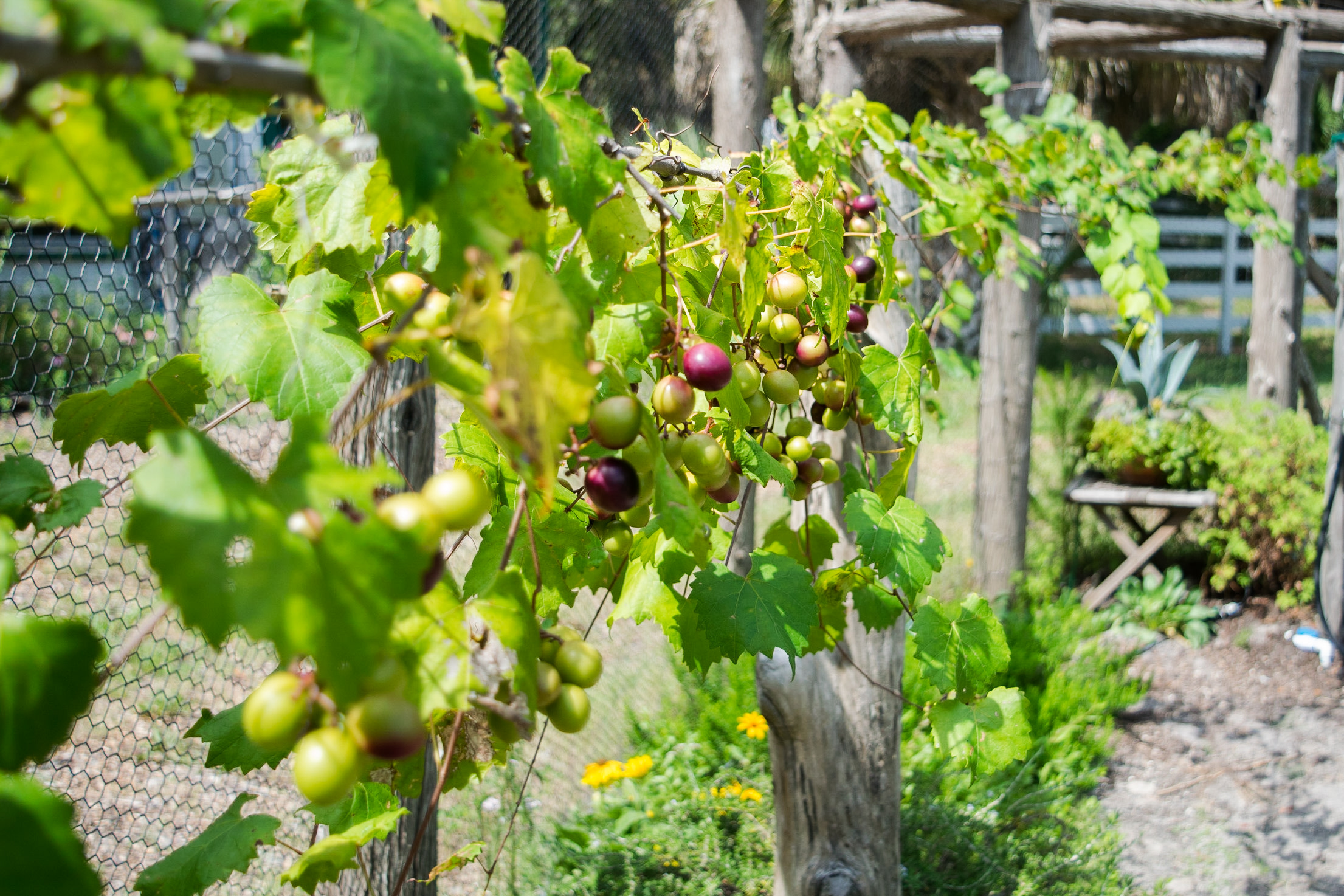 photo above: Muscadine grapes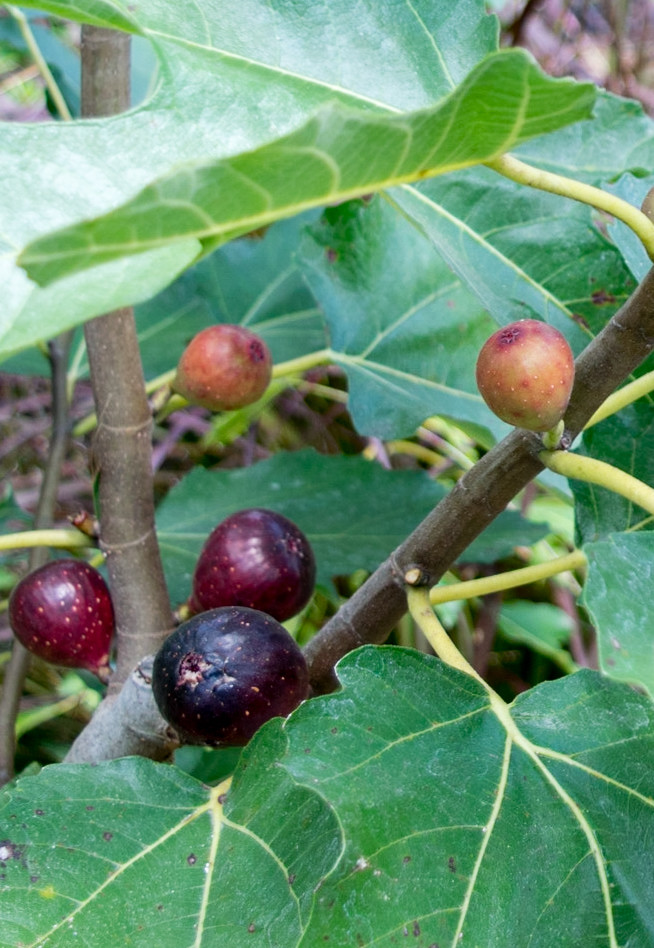 photo above: French Violet Figs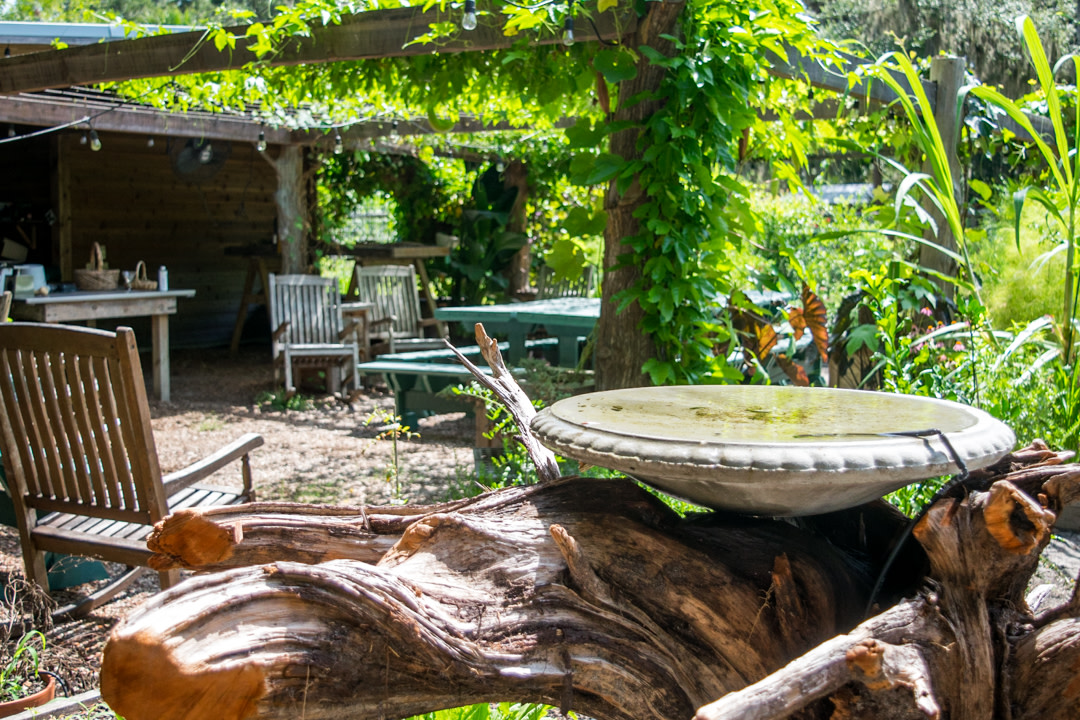 above and below: new gathering space in garden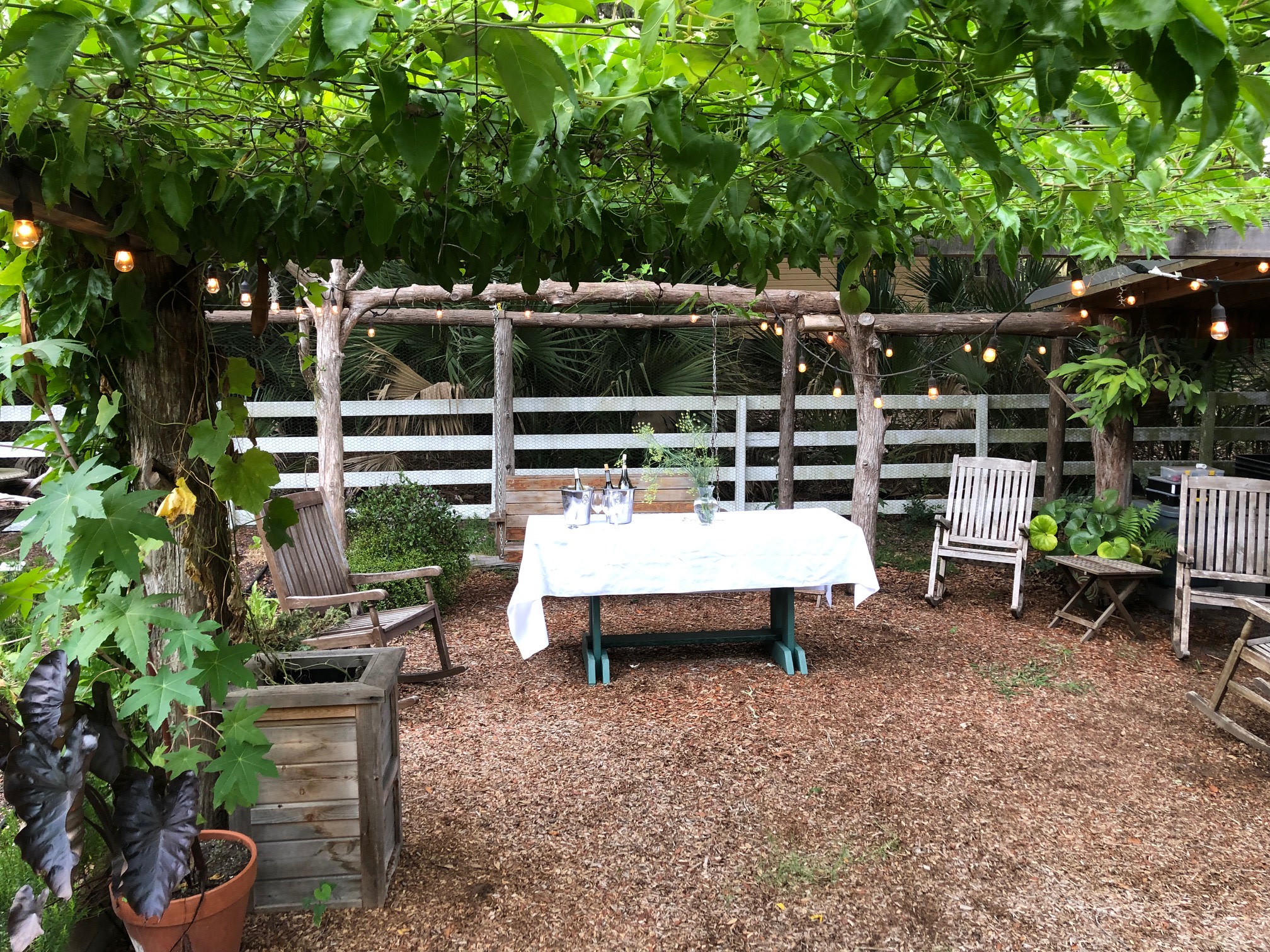 Keep in touch with us on social media to get regular updates and ideas.

Things to look forward to from the garden…
· Okra
· Horseradish
· Bananas
all photos: Cohen Carpenter