April 18, 2015
Norm's Pond Rookery Update
Posted by: Jeanne Christie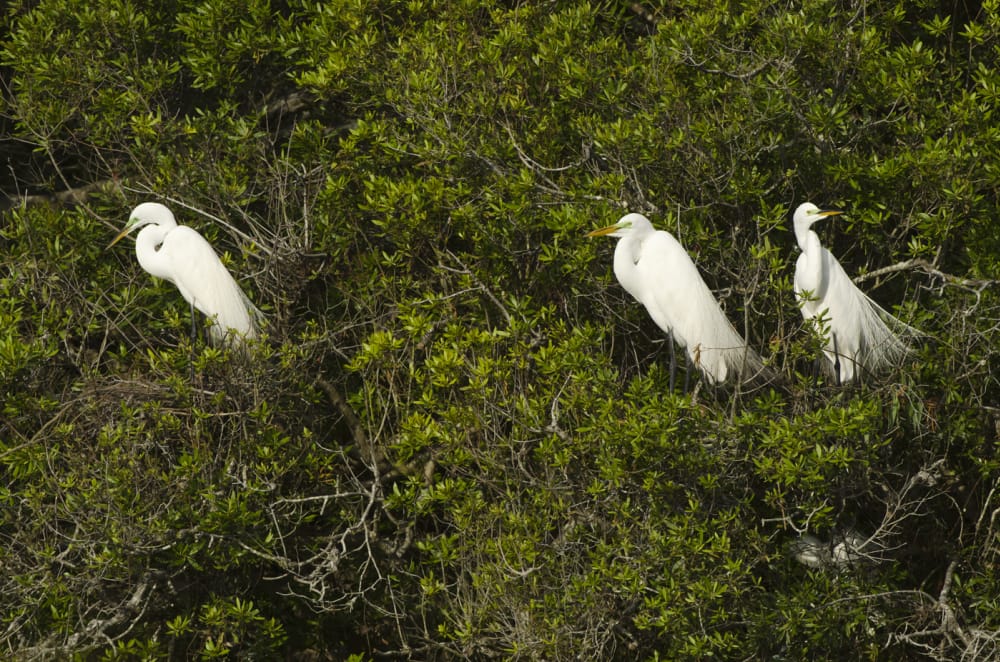 Spring has arrived on Little St. Simons Island, and with the warmer weather comes wading bird activity at Norm's Pond. Great egrets, snowy egrets, and anhingas are strutting their breeding plumage, building nests, and laying eggs on islands in the pond. Nests will begin to hatch in the next couple of weeks.
Norm's Pond is an active sediment borrow pit, with the sand collected from the area used for island road construction and maintenance. The pit was connected to a nearby artesian well and flooded. An upland peninsula that stretched into the center of the pond was ditched and made into an island to create rookery nesting habitat. Predators, like raccoons, are unwilling to jump or swim to the island to eat eggs and chicks due to alligators that patrol the pond. As a result, the birds that nest on the island have a much higher success rate than those that nest on the edge of the pond.
Recently, we created a new island at Norm's Pond. Another peninsula, that usually had high predation rates, was trenched and cut off from the mainland. Great egrets and anhingas are currently nesting on the new island. Ecological staff conducts weekly rookery surveys to monitor nests and chicks. From these surveys, we have documented more fledged chicks (chicks that can fly) on the islands than the pond edge. We predict that trend will continue for the new island as well.
Guests have an excellent opportunity to experience the rookery from the Norm's Pond tower. The tower provides close views of courtship, nest building, and chick rearing without causing stress to the birds. Many guests have also observed the large alligator, famously known as "Norm", sunbathing along the pond's edge. Several other bird species roost, or rest, at Norm's Pond including tricolored herons, black-crowned night herons, yellow-crowned night herons, cattle egret, white ibis, glossy ibis, and roseate spoonbills.