November 18, 2016
Northern Gannet
Posted by: Jeanne Christie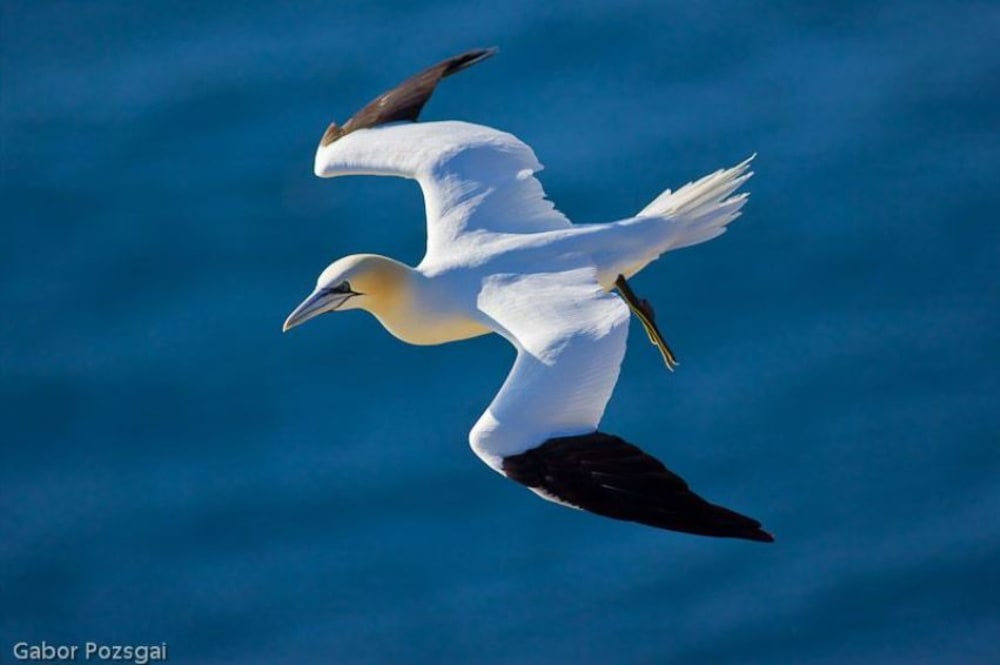 The Northern Gannet is a large seabird, and the largest member of the gannet family. These birds have long, slender, black-tipped wings with wingspans reaching about 70 inches from tip to tip. Adult birds have yellowish heads and all white bodies (pictured above) while immature gannets are very dark with white spots. It can take three or more years to attain full adult plumage.
Gannets are well known for their spectacular feeding behavior, which includes aerial plunges from heights up to 130 feet above the water. Just before entering the water, the wings are pulled behind the back to help to bird penetrate deeper into the water. Once underwater, the gannets will then use their feet and wings to propel themselves further in pursuit of prey. Most dives are relatively shallow but dives to depths of 72 feet have been observed. Small, schooling fishes are the most common prey, but gannets will also opportunistically take squid as well.
These impressive predators are colonial breeders, nesting only on the rocky cliffs of offshore islands during the summer. There are just six colonies of breeding gannets in North America; three colonies exist in the Gulf of St. Lawrence (Quebec), and three off the coast of Newfoundland. Large nests are constructed of compacted mud, seaweed, grass, and feathers, with excrement being used as cement. One pale bluish-green egg is laid each nesting season, and chicks are nearly bare when newly hatched.
Winters are spent entirely at sea, and these birds can be seen diving off the beach at Little St. Simons Island in search of prey. A spotting scope or binoculars may be necessary to observe them as they typically stay far offshore, but on occasion they can be seen within 100 yards of the beach.