November 19, 2013
Rare bird: Snow Bunting
Posted by: Jeanne Christie
It's no secret that Little St. Simons Island is a birder's paradise. We are graced with beautiful birds year-round, everything from magnificent shorebirds to tiny warblers.
With a group of birders intent on setting eyes (and scopes) on some rare birds a couple of weeks ago, the island's magic happily obliged. On November 9, we were making our way around the island to many of the great birding spots. After hitting Main Beach, the marshes off Beach Road and Marsh Road, and Myrtle Pond, we had paused at Sancho Panza Beach on the northern tip of the island to refuel.
As folks were digging into their lunches, one of the guests came running and shouting back down the beach path, "Snow Bunting! There's a SNOW BUNTING!"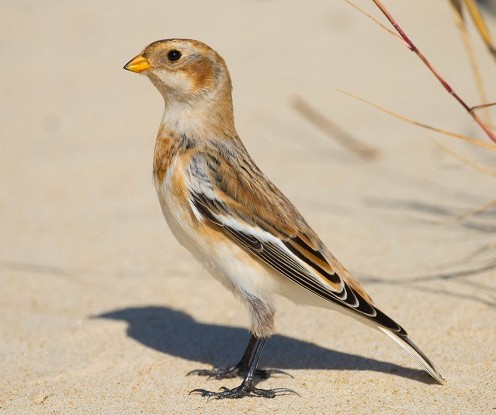 Snow Bunting at Sancho Panza. Photo: Herb Fechter.

Everyone in the group got great looks at the Snow Bunting (Plectrophenax nivalis) who was feeding along the wrack line and taking cover in the dune vegetation at Sancho Panza Beach. In its winter plumage, this relative of the sparrows is mostly white on its underside and cinnamon on its head and back with distinct white patches on its wings. Its small yellow bill is used for picking up seeds and small invertebrates.
As you can imagine, with a name like "Snow Bunting," this bird is not a frequent visitor of the Georgia coast. Snow Buntings are the first to arrive at their breeding grounds in the high Arctic tundra in the spring, and in the winter they are seen foraging in the fields of the northern plains and the Midwest as well as on beaches in the northeast US. The last time a Snow Bunting was spotted on Little St. Simons Island was in November 2006 when Wendy Paulson spotted one on Main Beach. There are only three other instances of a Snow Bunting in coastal Georgia listed in eBird: Cumberland Island in 1986; Fort Pulaski in 1996; and Tybee Island in 2012.