August 23, 2019
Shorebird and Seabird Nesting Report
Posted by: Kate Tweedy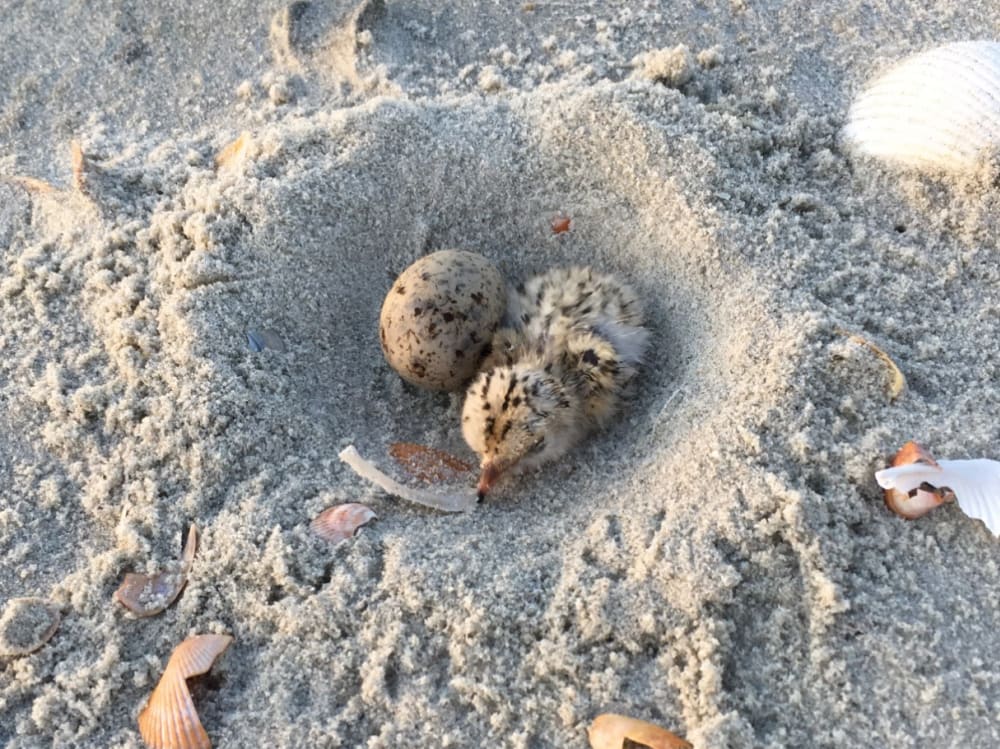 Our seasonal and year-round staff worked together to monitor nesting shorebirds and seabirds this year. With nesting at an end, we see our beach-nesting birds flocking and entering nonbreeding/wintering behavior patterns. We can now look back on the successes of the year. We thank Ana De Filippo, our 2019 Bird Technician, for her daily data collection that contributed to our growing shorebird and seabird nesting dataset.
Georgia nesting sites have built a decade-long dataset of American Oystercatcher nesting trends that aids conservation efforts for the species. We monitored 15 nesting pairs of American Oystercatchers on our seven miles of beach this spring and summer. Although our birds' nesting productivity of 3 fledged chicks was lower than the 10-year average of 4.9 fledged chicks per year, our nesters still saw success. We noted the return of many familiar leg-banded adult oystercatchers including Red 6K, who fledged a chick on the south main beach of LSSI (banded as Red A/P0). This bird has nested on LSSI since 2011 and successfully fledged a chick last year as well (banded as Red A/M3). We look forward hearing about where our 2019 young are spotted this winter!
Wilson's Plover populations are threatened in Georgia. Through daily monitoring and several full-beach surveys, we track nesting success rates for this species. Our findings guide management practices at LSSI and can be compared with other Atlantic Coast plover nesting sites. We documented 50 pairs of Wilson's Plovers nesting on our beaches in 2019. We performed nest checks and used game cameras at a subset of Wilson's Plover nests to understand their success rate. One of our nest site cameras captured some exciting photos of a leg-banded parent (leg band code: Lb/C:YR/Lb ) incubating a nest and hatching chicks! This Wilson's Plover daddy hatched and was banded on Little St. Simons Island in June 2015. Since then, we've seen him each summer on the island. His 2019 nest was just 1.14 miles away from where he hatched!
Least Terns nest in groups on open ground. We documented five distinct colonies nesting on our beaches this year, and we confirmed at least a half-dozen fledged young.
---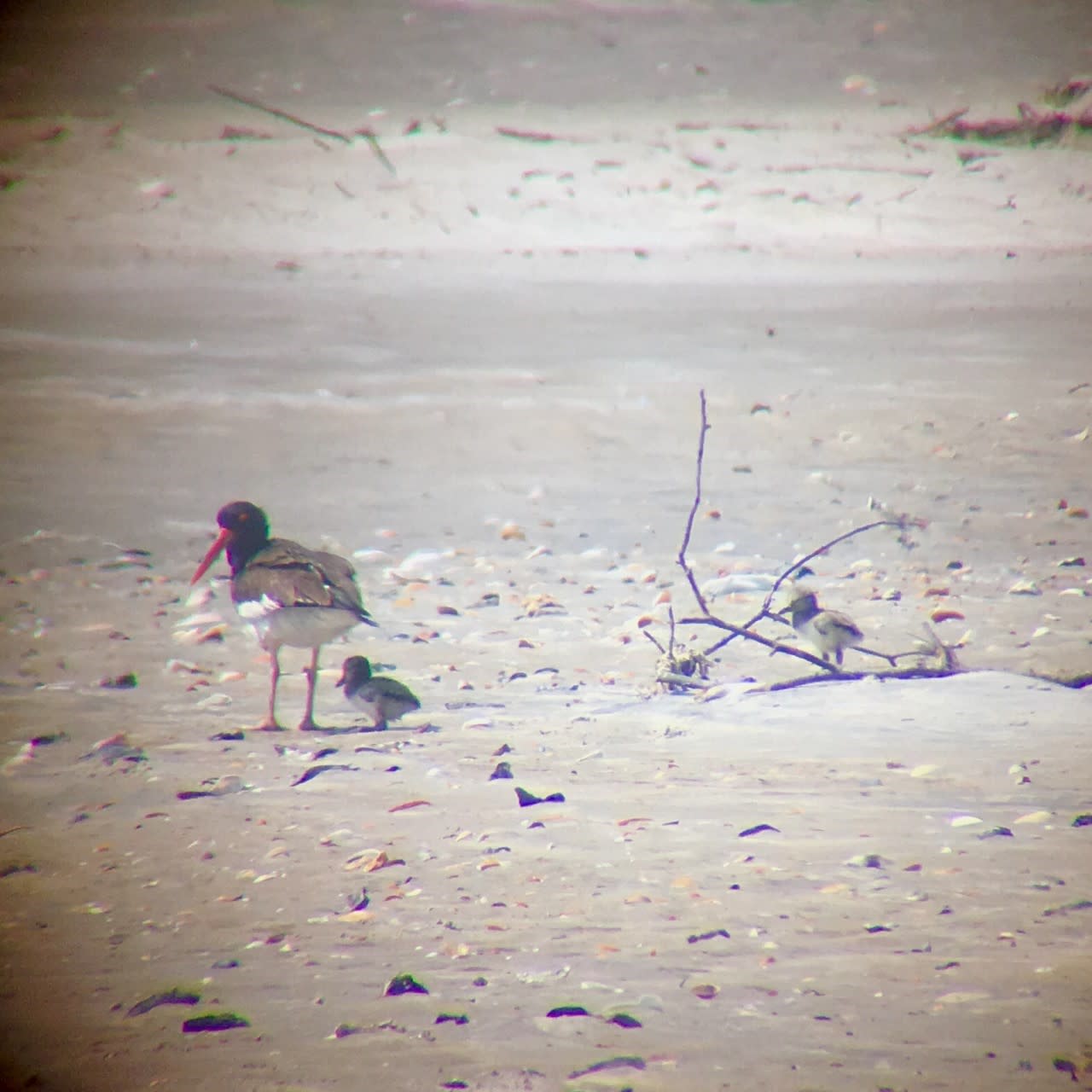 above: An adult American Oystercatcher tends to two young chicks on the South Main Beach. These chicks later fledged and have been seen foraging independently.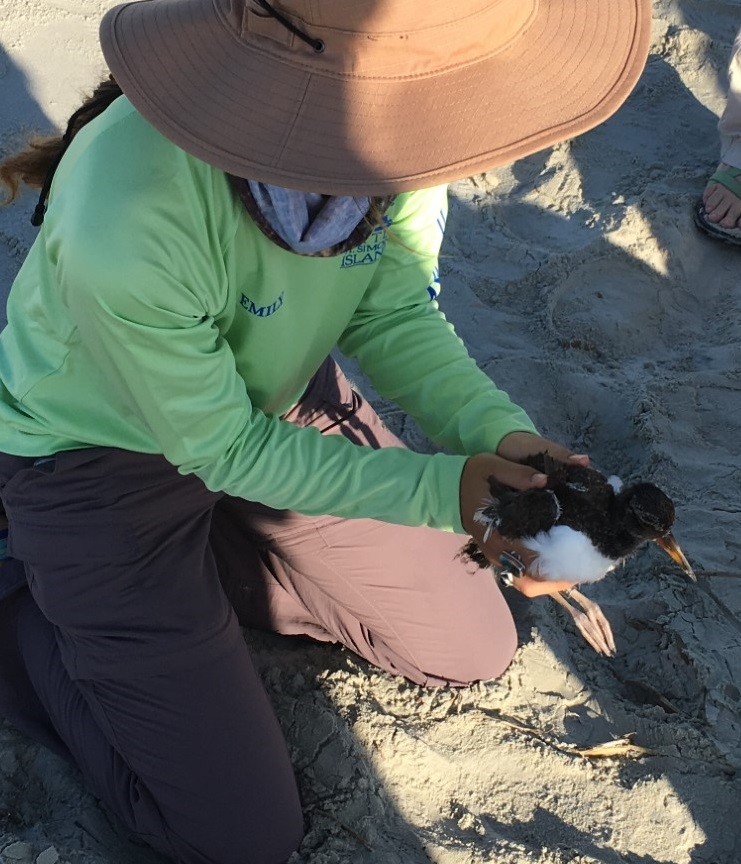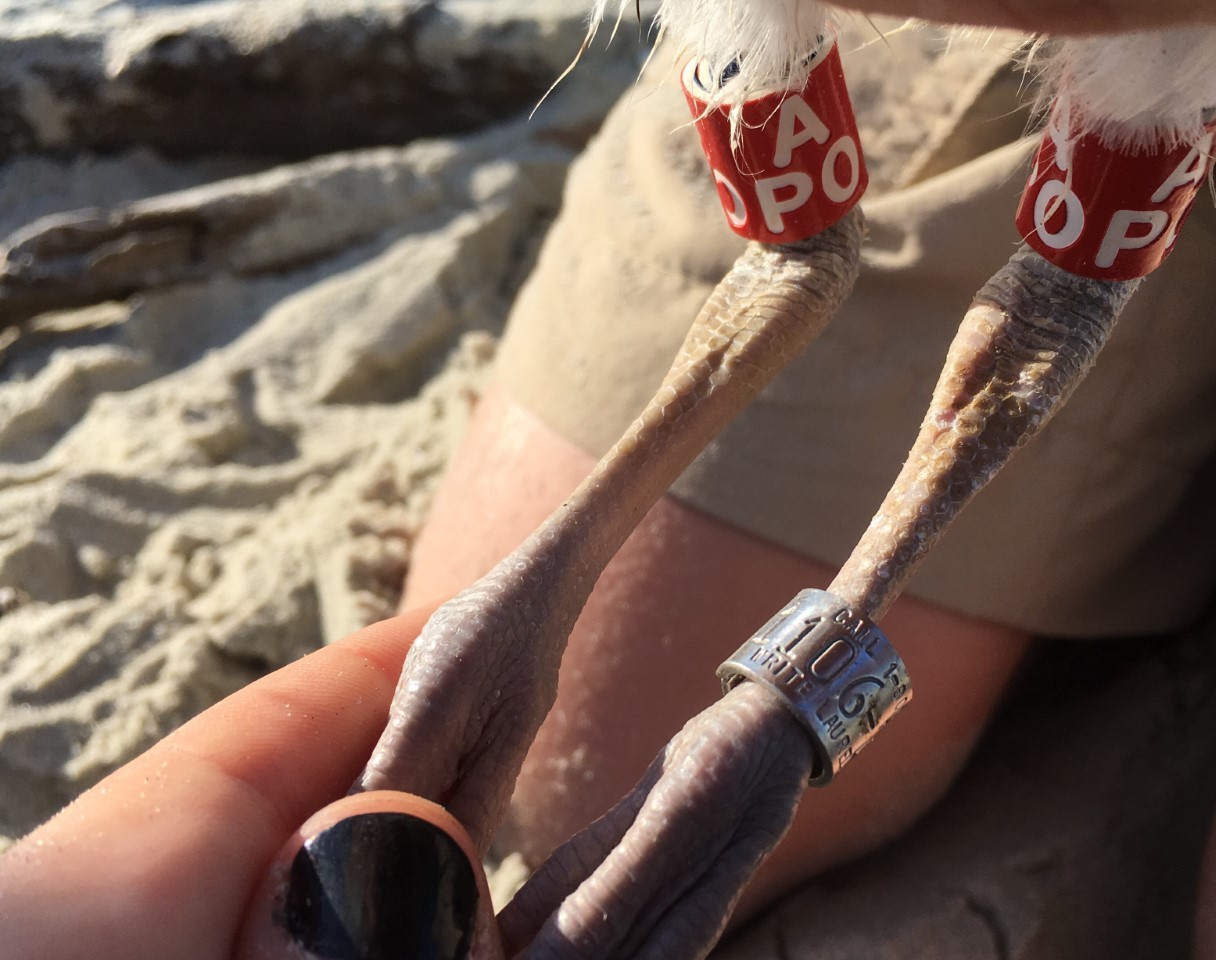 above: banding of "Red A/P0"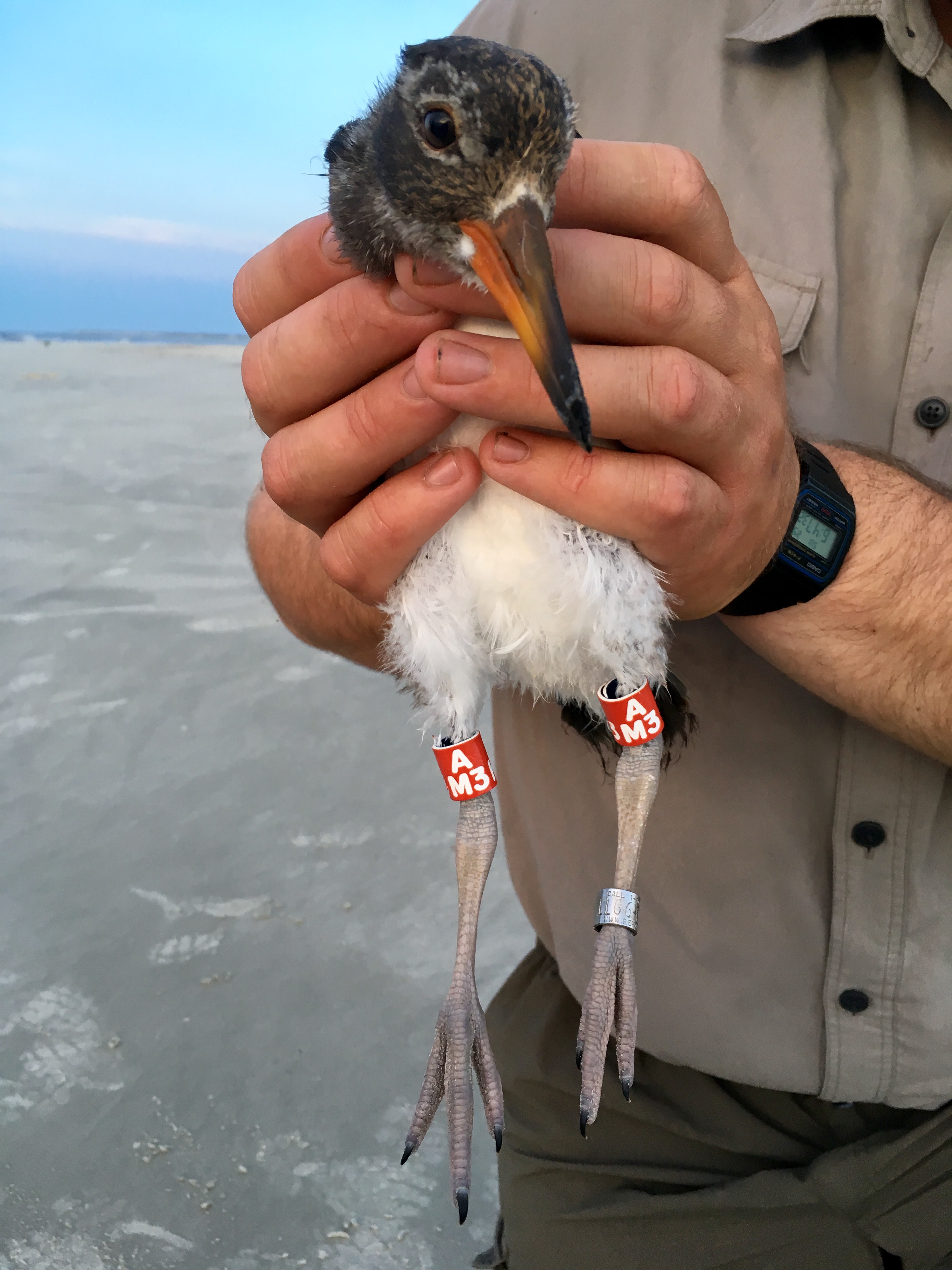 above: banding of "Red A/M3"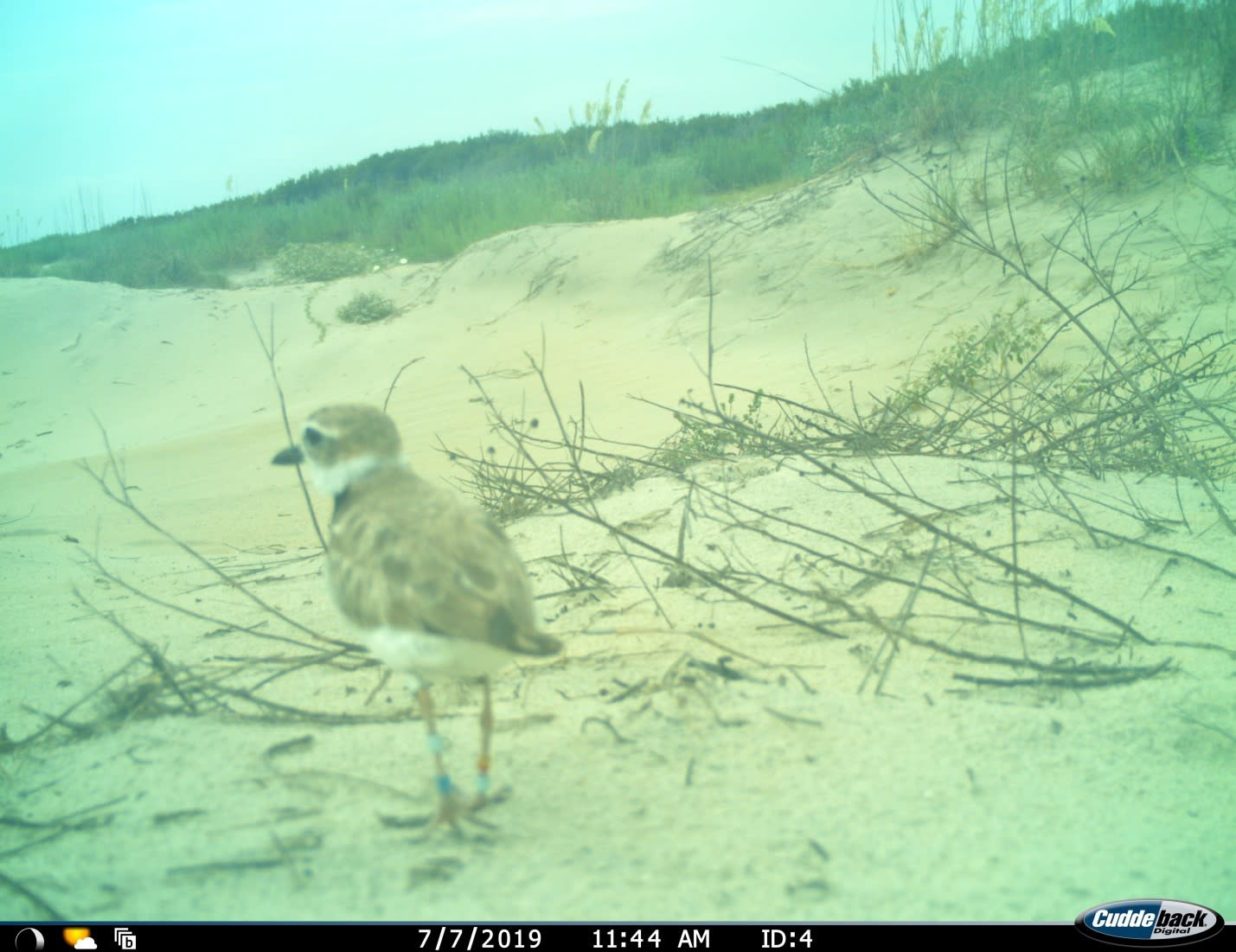 above: This male Wilson's Plover hatched on LSSI in 2015. He was leg-banded as a nestling. His band combination is Lb/C:YR/Lb (Light blue/Cobalt : YellowRed/Light blue). Since then, we have seen each summer on the North Main Beach. Here he stands watch near his 2019 nest.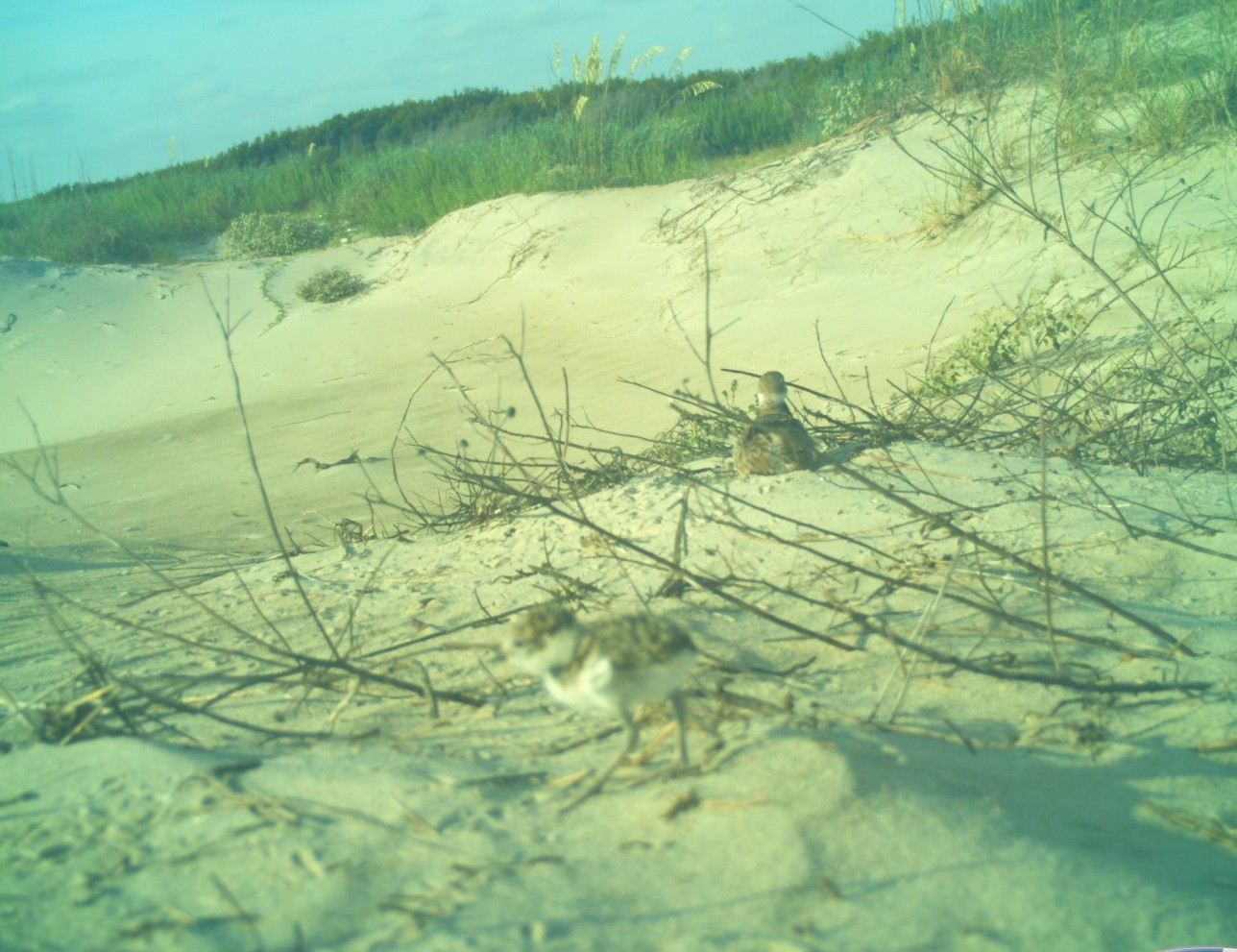 above: Male and female Wilson's Plovers share incubation and chick-rearing duties. Here, Lb/C:YR/Lb shelters two eggs in the nest bowl while his first hatched chick, just hours old, explores nearby (foreground).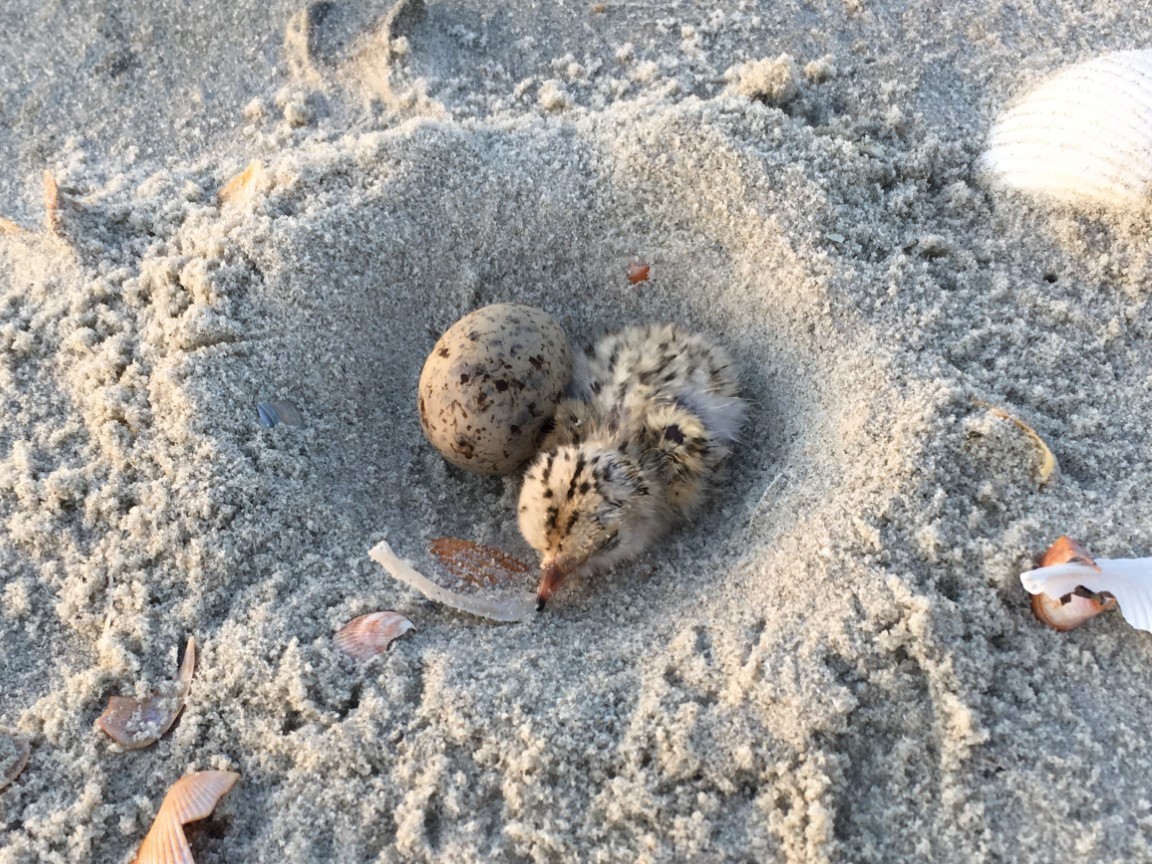 above: Newly-hatched Least Tern chicks are well-camouflaged on sandy substrates where adults nest and raise their young.