February 11, 2019
Winter Bird Monitoring: The Christmas Bird Count and Current Bald Eagle Nesting
Posted by: Kate Tweedy
Christmas Bird Count
On New Year's Eve, Little St. Simons Island gathered 25 birders from Georgia and beyond to census birds in cooperation with the National Audubon Society's Christmas Bird Count. The Christmas Bird Count (CBC) began over a century ago when conservationists and scientists decided to count birds on Christmas day rather than hunt them as was the tradition at the time. We are happy to continue this celebration of birds to the present day by seeing how many species we can document in a single day. Through this count we not only gather information for our LSSI records, but we also contribute to an international database of wintering bird information. Scientists are using the data to study the health and status of bird populations across North America.
Also contributing to the count in our region were birders covering parts of Sea Island, St. Simons Island, and the Altamaha River delta. Altogether we documented 9,736 birds belonging to 119 species. Highlights of the count were seeing 470 warblers of 7 species, 5,538 shorebirds of 20 species, and 51 raptors of 8 species. Ducks have been especially plentiful this winter; on our CBC day alone we counted 533 ducks belonging to 11 species, including fantastic numbers of gadwall (Anas strepera)(42) and American wigeon (Anas americana)(52). We finished the day with a magnificent sunset, enjoyed by our birders plus a great horned owl (Bubo virginianus) that stopped by to appreciate the view.
Our most numerous species was the dunlin (Calidris alpina)(2,931), a small shorebird that winters on our coast between summers spent in the Arctic. Our most common songbirds and "backyard birds" were red-winged blackbirds (Agelaius phoeniceus)(605), yellow-rumped warblers (Setophaga coronota)(387), Carolina wrens (Thryothorus ludovicianus)(165), and northern cardinals (Cardinalis cardinalis)(149). Meanwhile, our least common birds were blue-headed vireo (Vireo solitarius)(1), golden-crowned kinglet (Regulus satrapa)(1), merlin (Falco columbarius)(1), and long-billed curlew (Numenius americanus)(1), one of the rarest Atlantic coast shorebirds.
*header photo - wood stork (Mycteria americana), Kate Tweedy*
Kate Tweedy, Ecological Coordinator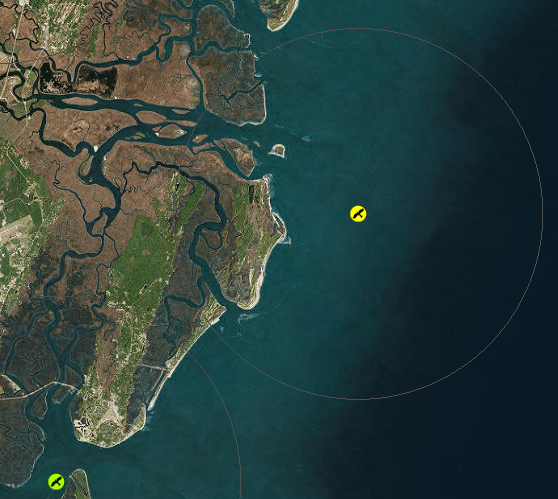 *above - map view with circle denoting the island, and circumference of the Little St. Simons Christmas Bird Count territory, registered with the National Audubon Society, covering northeastern Sea Island, northeastern St. Simons Island (and Cannon's Point), Little St. Simons Island, and the Altamaha River Delta (a critical habitat for shorebirds).
*below - similar view as above, but one can more easily note the surrounding territories for the count, one in MacIntosh County and one on the south end of St. Simons Island and stretching onto Jekyll Island. To register a territory, it must not overlap with an existing one, thus ours includes a large area offshore, as it was the most recently instated of the three.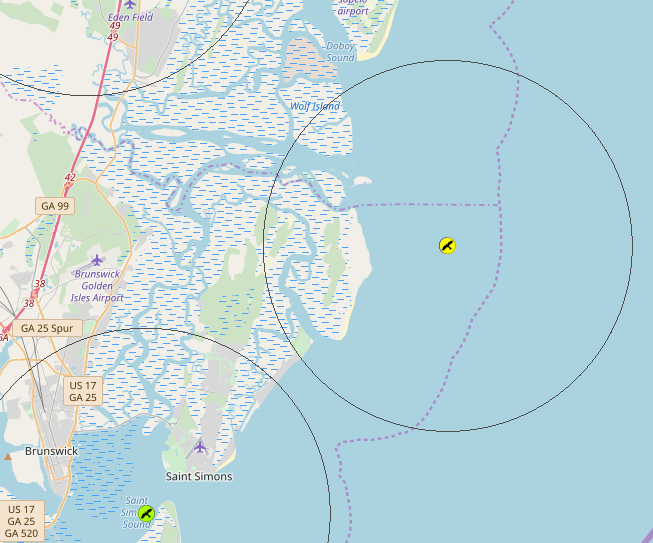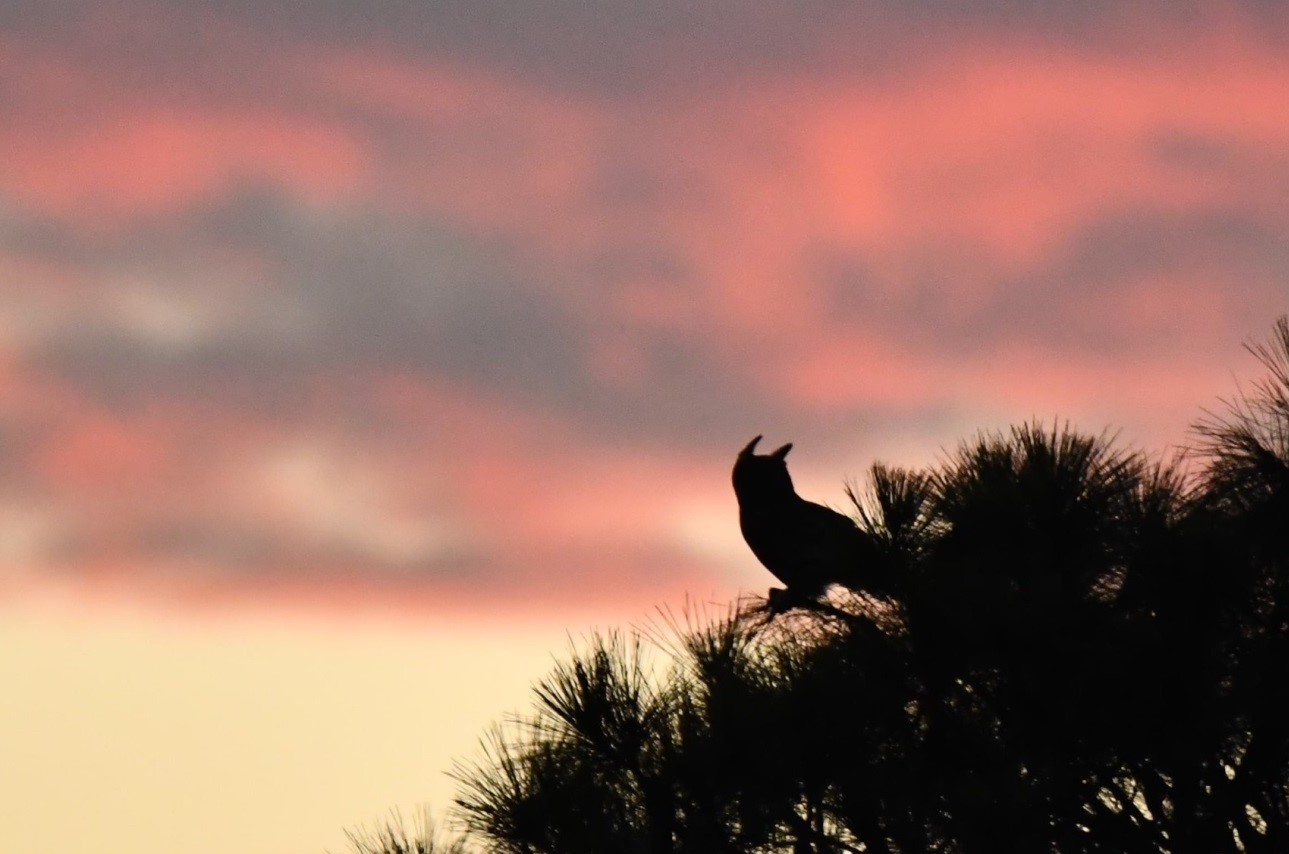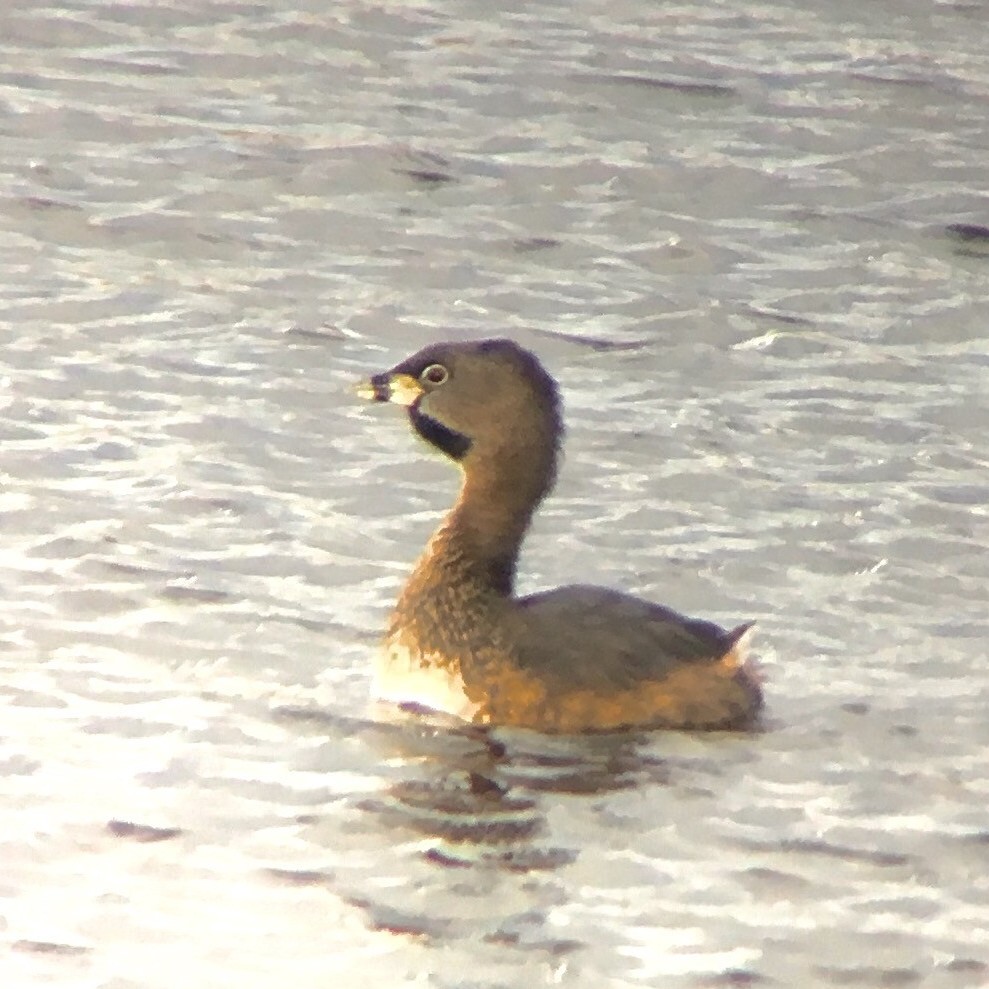 *left - great horned owl, Phil Murdaco; right - pied-billed grebe (Podilymbus podiceps), Kate Tweedy
---
Bald Eagles Nesting
While many birds are enduring the winter waiting for spring migration, bald eagles (Haliaeetus leucocephalus) on the Georgia coast are already nesting. Beginning in late November, bald eagle pairs reunite at their breeding sites to make repairs to their nests. They lay eggs in December and chicks hatch in January and February as food becomes plentiful. We have confirmed three active nests on LSSI this winter. Already, adult eagles are carrying scraps of meat to the South Pond Nest indicating that the chicks have hatched and are hungry! We should get our first glimpses of fuzzy-headed chicks this week, although the young raptors have a lot of growing to do before they begin to explore beyond the nest and test their wings, usually in March and April.
Kate Tweedy, Ecological Coordinator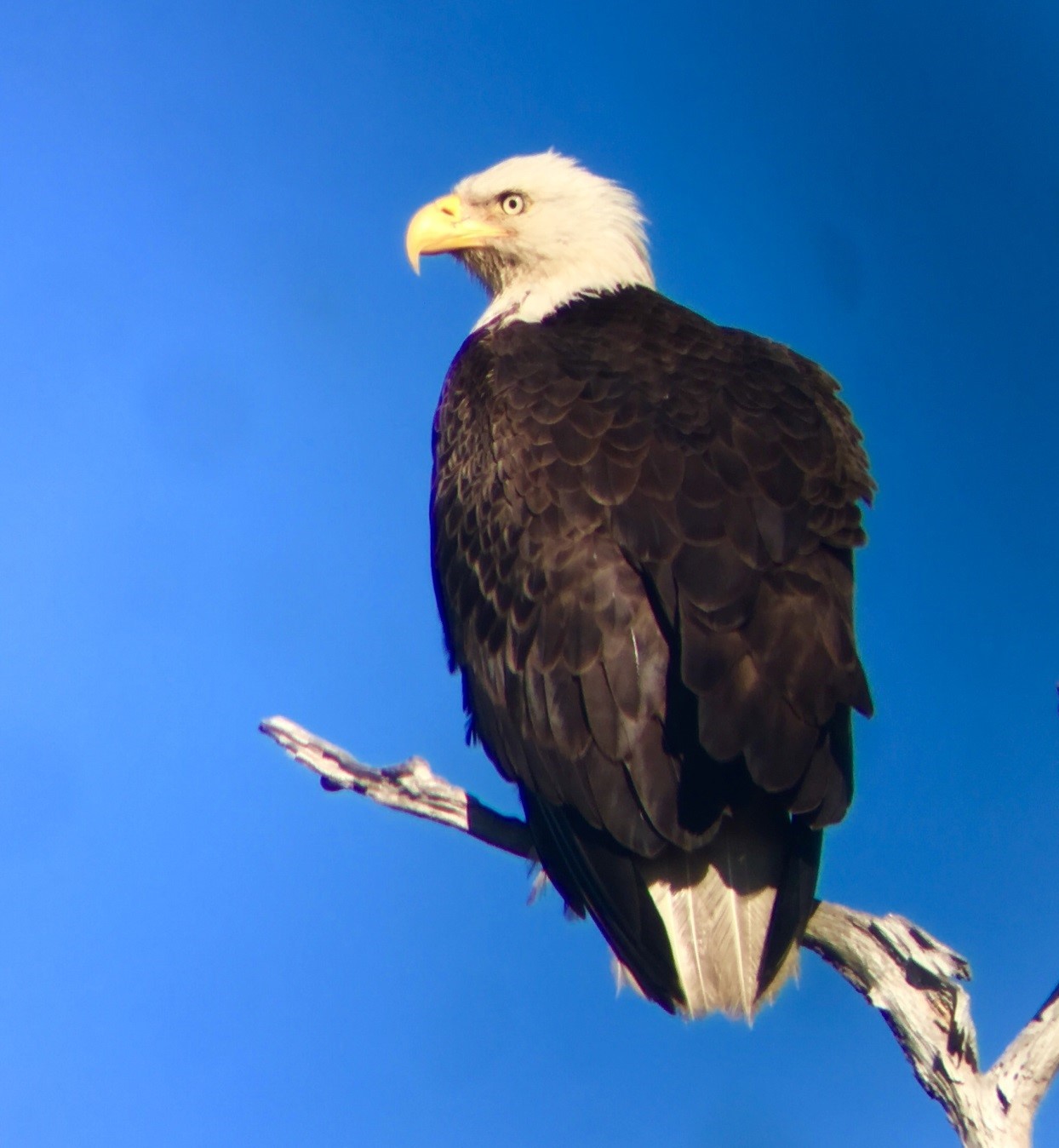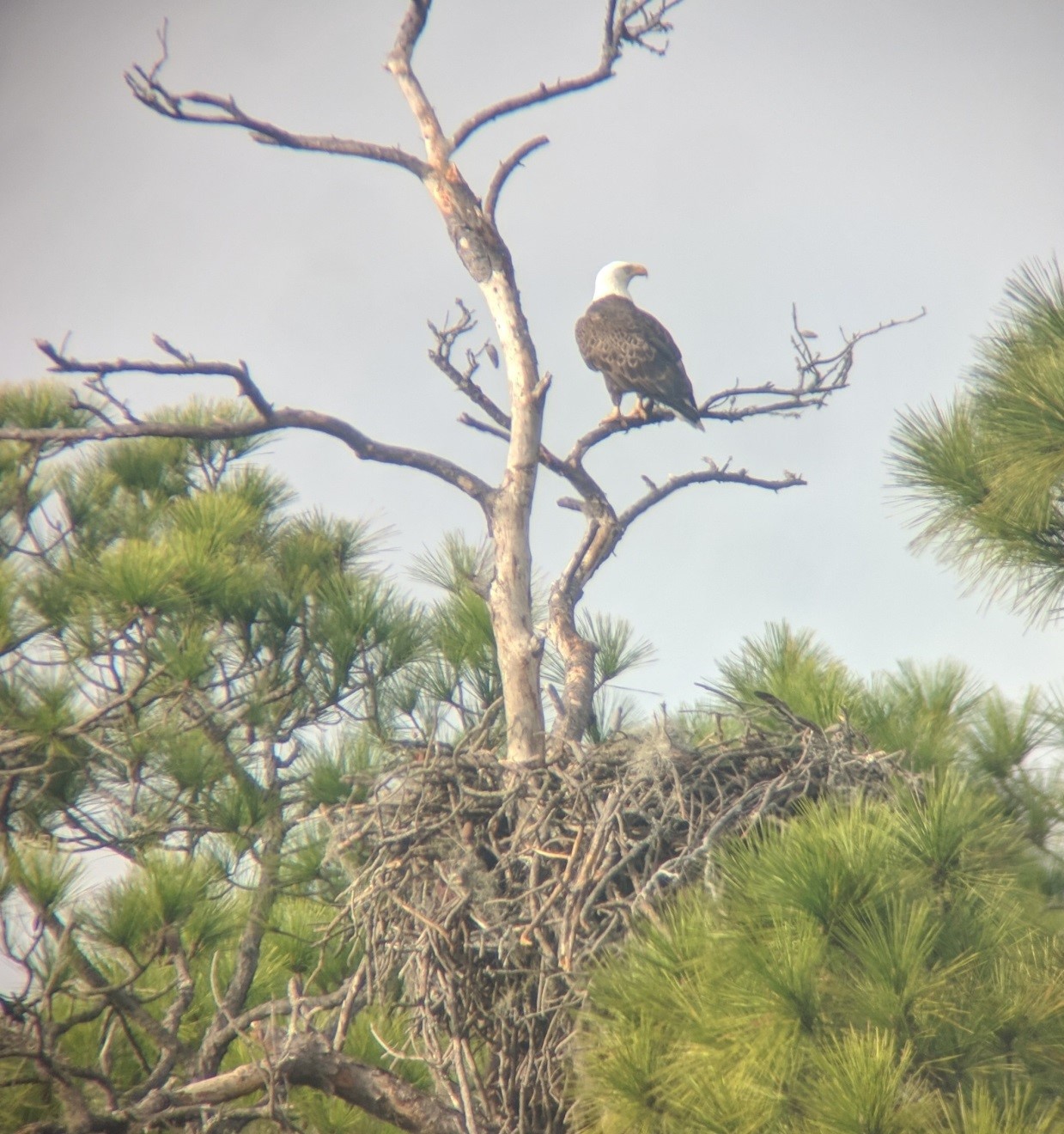 *left - bald eagle, Kate Tweedy; right - bald eagle above Three Pines Trail nest, Rock Delliquanti